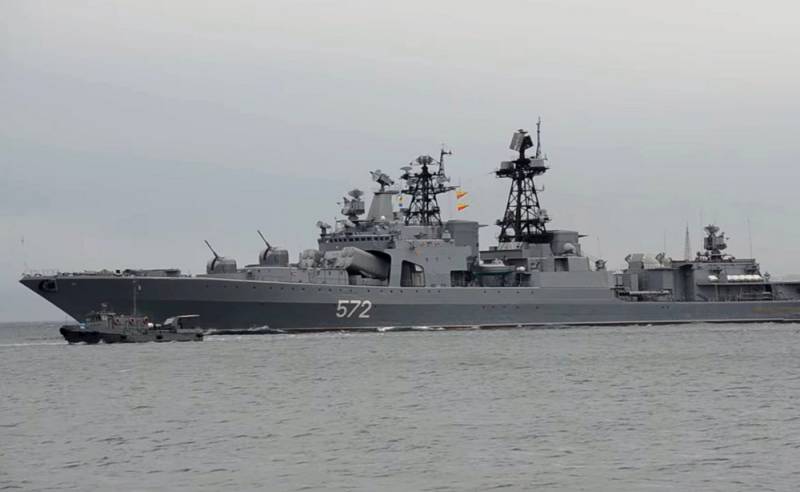 On the eve it became known that the anti-submarine ship (BOD) of the Pacific Fleet "Admiral Vinogradov" will undergo a deep modernization, which will raise the status of the warship to the level of a frigate. However, if you deal with the range of weapons that the aforementioned ship will receive in the future, it is possible that the Pacific Fleet may acquire another full-fledged destroyer at the exit.
As a result of the modernization, in addition to the "Answer" missile system, the Russian anti-submarine ship will receive the "Packet-E / NK" defensive-strike complex, which will allow it to engage surface ships and submarines at a distance of up to 10 km, as well as effectively intercept enemy torpedoes at a distance of 100 to 800 meters. ...
In addition, the updated "Admiral Vinogradov" will have 48 attack missiles, which will be distributed throughout the hull. The range of missile weapons will include "Calibers", "Onyxes" and even the newest "Zircons". All this will allow our ship to hunt not only for enemy submarines, but also for entire aircraft carrier groups.
But that's not all. The upgraded ship will be equipped with four Uranus complexes with 16 smart Kh-35U missiles, and the ship will be protected from air attacks by the Shtil-1 medium-range air defense system, which operates simultaneously on 12 targets at a distance of 70 km.
The declared armament of the modernized "Admiral Vinogradov" is really impressive. However, the basic version of the ship at the end of November did an excellent job with the task, "driving" the American destroyer from Russian territorial waters.