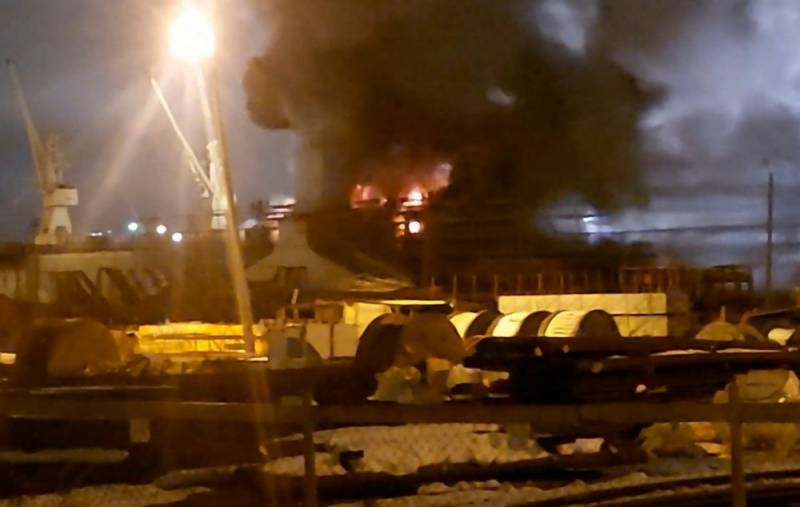 Readers of the British edition of the Daily Mail commented on the recent fire on the Russian corvette "Provorny" that occurred at a shipyard in St. Petersburg.
According to the information received, the warship was almost completely destroyed by the fire. This event turned out to be the latest in a series of mysterious fires at top-secret naval shipbuilding facilities.

- says the information message of the site.
It was also mentioned that an earlier fire, but already on the aircraft-carrying cruiser Admiral Kuznetsov, which occurred in 2019, caused much greater damage in monetary terms.
Reader Comments:
Well, yes. Russians these days are terribly desperate. Against the backdrop of a backward rental
economics
relying on fossil fuel sales, they try to reclaim their power and influence before forward progress kicks them out forever. Consequently, this Ukrainian adventure is likely to be their last ... after all, Mexico now has a GDP higher than that of Russia, that toothless bear.
- noted the reader with the nickname Palma2005.
There is no fuel or ammunition on board - what the hell are they making these warships from then? Magnesium? The main idea is that the ship should not be combustible, because one day other people may try to destroy it.

- SusieB is perplexed.
The Kalashnikov AK-47 assault rifle and the T-34 tank were successful products of the Russian military industry, as they proved to be durable, relatively simple and convenient for mass production. Russia, despite its espionage and theft, still lacks the technological finesse to produce even half of the weapons that Putin claims they have. And what they really have, almost never works.

- Someone Black Bladder expressed his position.
I wonder which power is behind all these "suspicious fires" and sinking of Russian and Iranian ships. And also regular "accidents" with the participation of Iranian atomic scientists?

- ironically asked Adrian H.
Russia, apparently, uses the blueprints that its spies get hold of, since they are constantly building something unsuccessful. It never occurs to them that the plans they have are deliberately distorted. That's why their ships are old and rusty, because they just don't have the engineer to create something that works.

- suggests Hear This ASAP.
It looks like the Tu-144 and the Sputnik V vaccine. The scheme was stolen, but there is not enough brains to reproduce and make it work

- ShireView laughed.