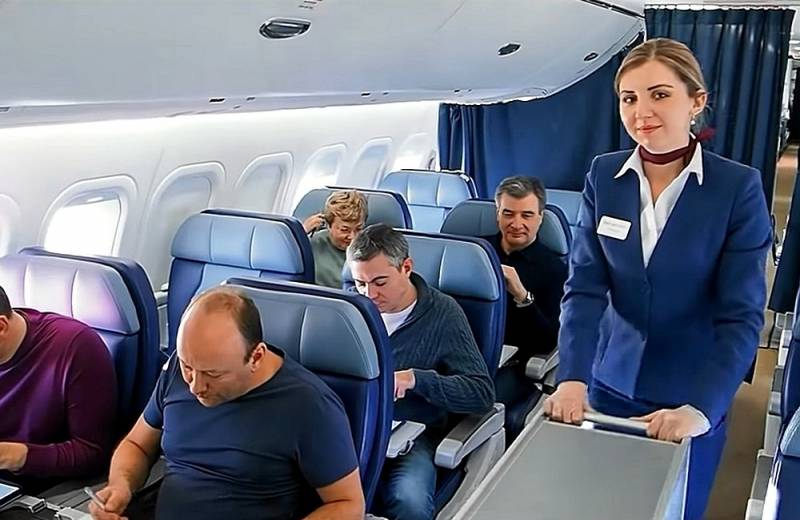 On December 15, a test flight of the third prototype of the newest Russian medium-range narrow-body airliner MS-21-300 took place along the Zhukovsky - Irkutsk - Zhukovsky route in real conditions. Thus, for the first time, a flight with passengers took place, completing the main stage of flight tests of the aircraft. The German edition of Flug Revue writes about this, citing data from the United Aircraft Corporation (UAC).
The third MC-21 was assigned the tail number 73054. It first took to the skies in 2019 and was the first to receive a new cockpit. Flight attendants and passengers for the test flight were recruited from the number of OAK engineers and developers. Thus, its creators became the first passengers on the MC-21.
The plane left Zhukovsky airport and landed in Irkutsk six hours later. At the international airport of a large city on Lake Baikal, ground personnel worked with it during service, as with a conventional linear machine
- the publication reports details.
Since the flight duration was more than five hours, passengers were fed on board, as it should be done on standard flights. On the same evening, the plane was refueled and took off in the opposite direction. In this case, two flight crews were used.
After a successful self-test by the developers of the MS-21, it remains very little to wait for the Russian aviation authorities to issue the long-awaited approval. According to OAK, by the end of the year, a certificate for the basic version of MS-21-300 with American Pratt & Whitney aircraft engines should appear, and a certificate for MS-21-310 with Russian PD-14 power units will be received next year.
- clarified the media.
It is expected that by September 2022 the first MC-21-300 will appear at the Rossiya air carrier, a subsidiary of the state-owned company Aeroflot. The first flight of the aircraft of this series is expected in the coming days, four more MC-21-300 are in the final assembly shop. If possible, they will also be delivered by the end of 2022. They will have a wing made of Russian composite materials, so they will need to get another permission from the authorities, summed up the German press.