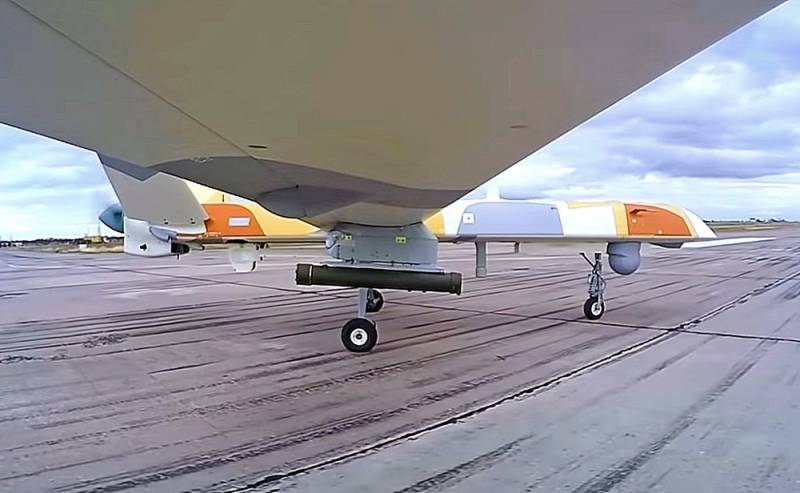 Russian reconnaissance and strike UAV "Orion" of the company
Kronstadt
has now also become a "drone killer", i.e. interceptor, writes the American edition of The Drive.
Recently been
conducted
a test in the Crimean skies, during which Orion, also known as the Pacing, effectively shot down a helicopter-type UAV, which was serving as a target, with a guided missile. This experiment proves that Orion, similar to the American MQ-1 Predator, is capable of aerial missions. Moreover, this confirms that Russia is making great efforts to develop its unmanned aircraft and introduce new aviation ammunition.
Tests of the UAV "Orion" in the role of a drone interceptor over Crimea look like a very clear signal for Ukraine
- says the publication.
In one of the latest reports, Major General Alexander Novikov, head of the UAV Development Department of the General Staff of the Russian Armed Forces, said, however, like other high-ranking Russian functionaries, that Orion could shoot down Turkish Bayraktar TB2 drones, which were used in Syria, Libya, Nagorno-Karabakh and began to be used by Ukraine in the Donbass. In addition, recently the Russians
demonstrated
one shot down "Bayraktar". Thus, it is not just a coincidence that the last Orion test was carried out in Crimea, which Kiev considers "captured" by Moscow.
As for the target helicopter drone used in the tests, it is probably a product of one of the companies of the Tekhnodinamika holding (part of Rostec). This UAV is very similar to the Camcopter S-100, created by the Austrian company Schiebel with the participation of the German company Diehl BGT Defense (used by the OSCE mission in Donbass).
All this shows how seriously the Russian Federation takes this type of weapon. However, it remains to be seen whether the promises made will actually come true. The Russian defense budget may not be enough to support all programs in the long term, but it is possible that at least some of them will be able to receive export orders, summed up the media from the United States.