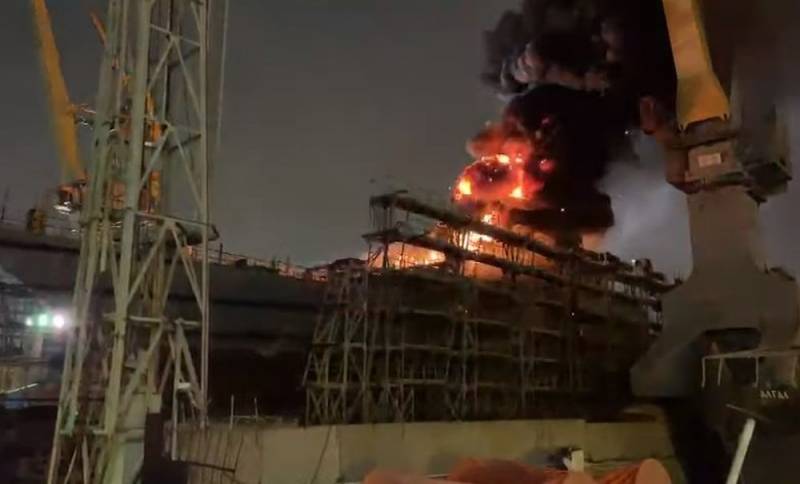 In the evening of December 17 at the "Severnaya Verf" (part of the USC) in St. Petersburg
happened
a fire on the Provorny corvette, which has been under construction for more than eight years (project 20385). On December 20, the possible further fate of the burned-out ship became known, which was to be transferred to the Russian Navy by the end of 2022.
On December 18-19, after the end of the firefighting, Severnaya Verf specialists conducted a primary inspection of the Provorny. They came to a preliminary conclusion - the ship must be restored. The company announced this on its official website.
<…> Thanks to the mounted fire insulation between the superstructure and the deck, the hull of the ship was not damaged. The superstructure must be dismantled. There was no equipment in the superstructure. Negotiations are underway with AO SNSZ (Sredne-Nevsky Shipbuilding Plant (St. Petersburg), part of the USC - ed.) On the construction of a new superstructure
- says the communique.
The company clarified that in order to prevent freezing of the water that got into the holds during the fire extinguishing, heating and electricity were turned on. About a hundred workers pumped out water, dried surfaces and cleaned the premises from the consequences of fire. The commission of representatives of Severnaya Verf and USC, which has begun work, will assess the damage caused. It is too early to talk about the causes of the fire. This commission will take several weeks to study all the circumstances and find out the reasons for the emergency.
Note that what happened cannot but affect the timing of the delivery of the ship to the fleet - they will definitely move if the final decision is made to complete the "Provorny" at the "Severnaya Verf". It should also be recalled that JSC "SNSZ" is engaged in the construction of ships and vessels from fiberglass, one of the types of polymer composite materials (PCM). Fiberglass plastics are inferior to steel in absolute values ​​of ultimate strength, but 3,5 times lighter and superior in specific strength.