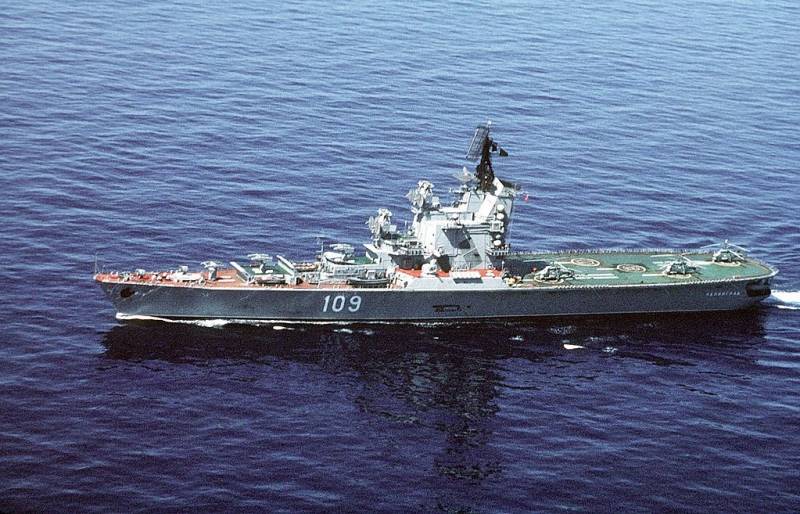 They say the best is the enemy of the good. There is a fair amount of truth in this statement. The super-innovative and super-expensive Zamvolt destroyers turned out to be unnecessary for the US Navy. Created with extensive use of stealth
of technologies
and composite materials Russian corvettes, as recently
turned out
, burn like a torch. The weapon of victory should be relatively simple, therefore very reliable and, preferably, cost reasonable money. Is it possible to apply a similar approach to the revival of the Russian Navy?
A while ago we were surprised
Found out
that, contrary to the imposed propaganda myth, Russia has everything it needs to build a rank 1 destroyer class ship. To do this, it is enough to take the already existing Soviet project BOD 1155.1, modernize it in accordance with the challenges of the time, install modern engines, and we could get a reliable strong "workhorse" that can be used to solve a wide range of tasks. The Russian Navy does not need any "wunderwaffe", like the super-expensive and super-sophisticated nuclear destroyer "Leader", which the shipbuilding industry is guaranteed to grind out for 15 years, or even more. Instead of one super destroyer, which still will not radically change the balance of power at sea, it is more expedient to build three simply good destroyers, from which there will be more real sense.
And there is no need to be complex about turning to Soviet developments. For some reason, the Americans do not hesitate to build, continuously improving, their destroyers "Arleigh Burke", starting in 1988. For some reason, no one calls them "old", on the contrary, this destroyer is recognized as the best in the world in its class. And the super-duper "Zamvolta" turned out to be completely unnecessary for the US Navy. Let's ask ourselves a question, can our country take something else, in addition to the BOD of project 1155.1, from Soviet developments and build from scratch, improving it?
Helicopter carrier?
Currently, two Project 23900 universal amphibious assault ships are under construction in Kerch. In addition to the ability to transport a battalion of marines and armored vehicles, the most important advantage of the UDC is its air wing, which can consist of helicopters of different types, up to 16 pieces in total. They will allow the Russian Navy to solve a number of urgent tasks.
At first
By placing on the deck from 4 to 6 AWACS helicopters, the helicopter carrier will be able to issue data for target designation to the strike and anti-aircraft missiles of the ship group, in which it is traveling. The range of the Ka-31 type helicopter is seriously inferior to the carrier-based AWACS aircraft, but without it our fleet is generally half-blind and half-deaf, cannot effectively direct the Zircons and Calibers to the target, which, unfortunately, not everyone understands.
Secondly
as we recently
have established
, today the Russian Navy is not able to provide reliable cover for the combat deployment areas of its SSBNs. There is an acute shortage of anti-submarine ships and anti-submarine aircraft that would fight against enemy multipurpose submarines that hunt our SSBNs. The helicopter carrier is partly capable of solving this problem. Anti-submarine Ka-27M, deployed at a floating airfield, will be of great help in hunting enemy submarines. In the future, they can be replaced with more modern Lamprey helicopters.
Thirdly
, in a different composition of the wing, anti-submarine helicopters can be replaced with attack ones, which can be equipped with anti-ship missiles and, possibly, even air-to-air missiles. This will make it possible to deliver air strikes to small ships and even to enemy air targets.
Thus, the helicopter carrier is an extremely useful warship. Unfortunately, there are a couple of problems.
There are only two of them, "Mitrofan Moskalenko" will become the flagship of the Black Sea Fleet, "Ivan Rogov" will join the KTOF. The need to fight submarines and ships of a strong enemy has not been canceled, for example, in the Northern Fleet. In reality, the Russian Navy will receive two UDC closer to the end of the decade. And the second problem is that due to the limited air group, you will have to choose which helicopters to deploy. From 4 to 6 Ka-31s are needed without discussion, the remaining space on the deck will need to be given either for anti-submarine warfare or for drums, otherwise, if you smear the resource with a thin layer, then it may not be enough to effectively complete a combat mission.
In other words, it is highly desirable that the Black Sea, Pacific and Northern fleets have at least two aircraft carriers each. For now, let's take clean aircraft carriers as a parenthesis in view of their high cost, complexity and duration of construction. But is it possible to somehow resolve the issue of a multipurpose floating airfield for helicopters of various classes?
Helicopter cruiser?
Some time ago we already
concerned
the question of the possibility of reviving the forgotten Project 1123 helicopter carrier cruiser. The Condor is rightfully considered the first Soviet aircraft-carrying ship. It was created specifically for hunting enemy nuclear submarines in the far sea zone, therefore it was seriously armed. Each such cruiser carried 14 anti-submarine helicopters, anti-submarine missiles and bombs, had a fairly serious air defense system and artillery for its time. The Condors were tough ships and could even withstand a nuclear explosion nearby.
Unfortunately, this project also had very significant drawbacks. Due to the structural features of the hull, its seaworthiness left much to be desired, inside it was cramped, and due to chronic problems with the steam turbine power plant, it had a real speed much lower than the "passport" 29 knots. So is it worth contacting the Condors if instead of the third in the 1123 series, the USSR Navy decided to build the TAVRK 1143 Krechet project?
It is possible that it is still worth it, but not according to project 1123, but according to 1123M (1123.3). Soviet engineers tried to eliminate the maximum number of design flaws in the third ship, which was supposed to be named "Kiev", but was never completed.
The third "Condor" was supposed to grow 12 meters in length and 1 meter in width. Its standard displacement would have grown to 15 tons versus 000 of its predecessors, the number of take-off sites - up to 12290. The Kiev air group was supposed to be already 6 helicopters, even the use of vertical take-off and landing Yak-22 aircraft was supposed. They intended to equip the new cruiser with anti-ship missiles, as well as strengthen its anti-aircraft defense.
Thus, "Kiev" could become a truly multipurpose warship of the far sea zone. Why was it abandoned without completing the building? Because the command decided to give the slipway for the first Soviet TAVRK, which surpassed the Condor in performance characteristics. Does this automatically mean that the 1123M project is not interesting to us either?
Not at all. Unlike the USSR, in modern Russia there is nowhere to build ships of the TAVRK or ATAVRK class. Rather, there is where, but it will be necessary to take "Sevmash" or "Zvezda", but it seems that it is impossible. But a helicopter-carrying anti-submarine cruiser with a standard displacement of 15 tons is a much smaller task than building an aircraft carrier with a displacement of 000 to 70 tons. This could well have been carried out at the Zaliv plant in Kerch, immediately after the completion of work on the UDC of project 000, the total displacement of which, we recall, is much larger, reaching 100 tons.
Instead of steam turbines, the revived "Kiev" could be equipped with 4 gas turbine engines М90ФР with a capacity of 27 hp. With. each according to the COGAG scheme, which will give the Condor 500 hp. against 110 from its predecessor. The developers even promise to increase the M000FR capacity from 90 MW to 000 MW. This would give the cruiser a good run. In addition to 90 anti-submarine and other helicopters, it could be equipped with serious strike and anti-aircraft weapons.
A ship of this class can be used for a wide range of tasks: in conjunction with the UDC as the "core" of the ship's strike group, to support amphibious assault forces with missile strikes and attack helicopters, and also as the "core" of a search and strike anti-submarine group.
A helicopter-carrying cruiser with a standard displacement of 15 tons is something that the domestic shipbuilding industry can handle. The Zaliv plant, after launching the UDC as a platform, suggests itself.