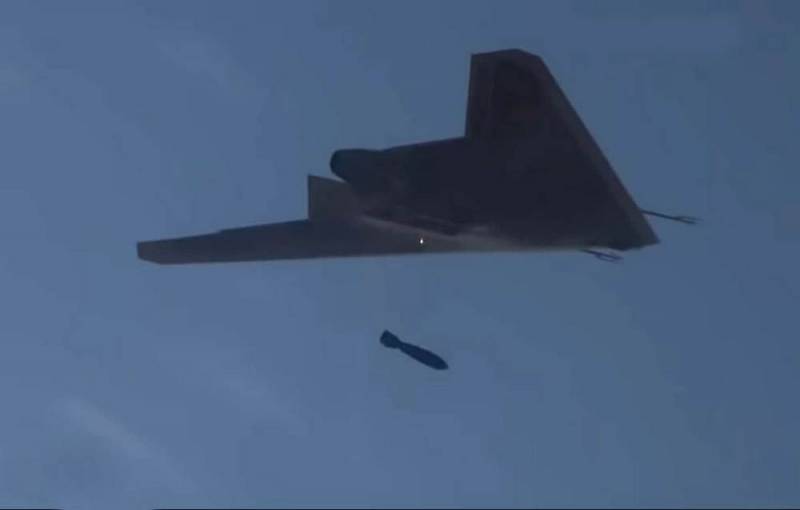 A video appeared on the Web showing the bombing of an ammunition weighing 500 kg, carried out by the Russian heavy UAV S-70 "Okhotnik", for the first time. We are talking about a high-explosive aviation bomb (FAB-500), or a high-explosive fragmentation bomb (OFAB-500). Ammunition of this type has the most powerful and versatile damaging effect among main-purpose aerial bombs.
It should be noted that the first prototype of the aforementioned drone was shown on the footage of the Vesti Nedeli story of the Russia 1 TV channel. This can be easily identified by the nozzle of its aircraft engine, since it has a flat shape in the new version of the drone.
A hatch opens and a huge bomb weighing half a ton falls onto the landfill.
- the video says behind the scenes.
We remind you that the specified S-70 passed the next stage of flight tests at the Ashuluk training ground in the Astrakhan region on January 12 this year. Exactly then
сообщалось
that "Okhotnik" carried out its first bombardment from the inner compartment, dropping FAB-500 or OFAB-500, successfully hitting a ground target. However, no
video
that specified the bombing were not posted on the Web at that time.
Recently, the United Aircraft Corporation (UAC)
presented
updated (improved) version of the C-70 "Okhotnik". The rollout took place at the Novosibirsk Aviation Plant. V.P. Chkalov, where this promising and much needed unmanned aerial vehicle was assembled by the RF Armed Forces. We will look forward to the flight tests of this UAV.