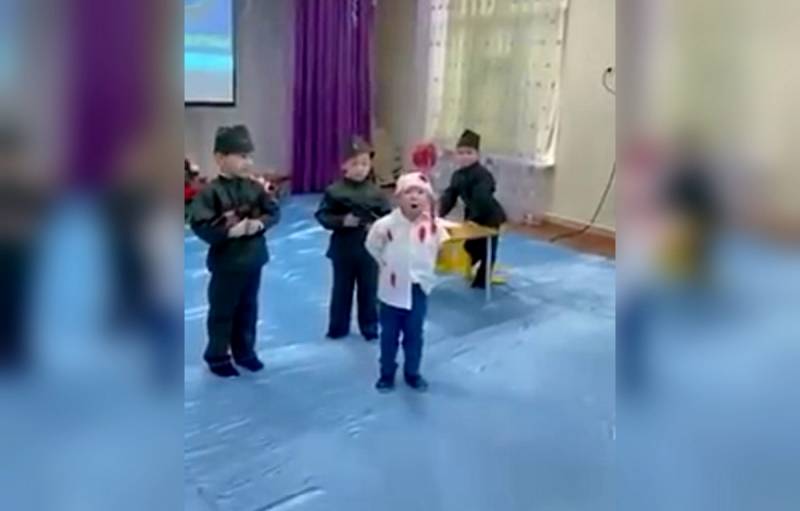 On the occasion of the 30th anniversary of Kazakhstan's independence, celebrated on December 16-17, in one of the preschool institutions (kindergarten) of this Central Asian state, a theatrical costumed scene of the interrogation and execution of a proud Kazakh student by the soldiers of the Soviet Army was performed. Russian journalist Alexander Kots announced this on December 19 in his Twitter account.
The media representative noted that the published footage of this educational event, apparently, reflects the modern vision of the "December uprising" in 1986 in Alma-Ata, the capital of the Kazakh SSR.
What will these children know about the country's Soviet past? How was the virgin soil raised by the whole Union, how were mining and processing and metallurgical plants built, how Turksib was laid? Or how cadets of a military school in December 1986 dispersed the crowd with sapper shovels?
- wrote Kotz.
Note that conducting such a "patriotic" scene in a state institution is hardly an initiative of educators. This is probably a reflection of the state
policy
Nur-Sultan in general.
Every year in Kazakhstan
becomes
more and more anti-Soviet Russophobes, "defenders of everything Kazakh" and opponents of "everything Russian". They not only call to prohibit the Russian language and abandon the Cyrillic alphabet in the Kazakh alphabet, but even put forward territorial claims against Russia and talk about the need to "end ethnic cleansing." Even the authorities of Kazakhstan periodically respond to such outrageous calls. However, this only happens after a great resonance in the media, when Moscow begins to ask questions.