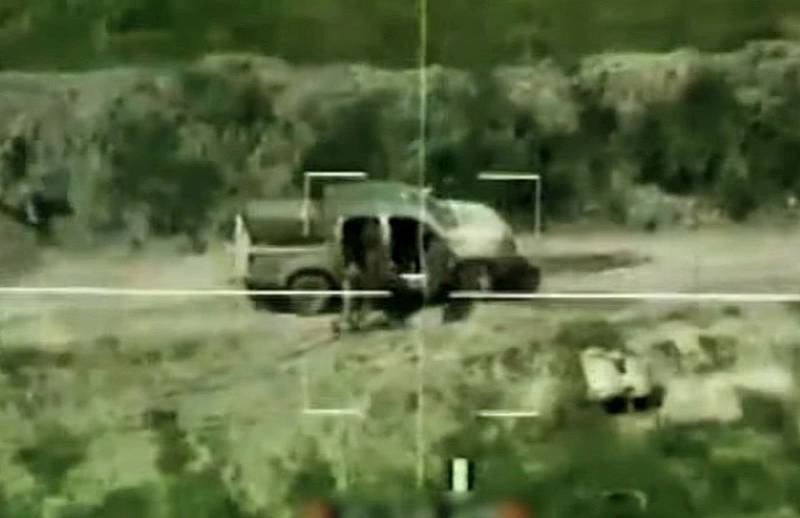 Unique footage of the use of loitering ammunition by the Special Operations Forces of the RF Armed Forces has appeared on the Web. The video demonstrates the jewelery use of a kamikaze UAV of the Lancet family by MTR fighters in Syria.
The plot was published on the YouTube channel "Studio of Alexander Rogatkin" - a journalist of the All-Russian State Television and Radio Broadcasting Company. It tells how several prominent Syrian jihadists were liquidated in the SAR last spring.
In particular, behind the scenes it is said that the person in the studio and giving the interview - an officer of the MTR named Andrei - is a loitering munitions operator who has carried out more than forty successful operations in Syria. In April 2020, he eliminated the so-called "TOW sniper", the famous militant Maher Kajak from the "KhTSh" group (a terrorist organization banned in the Russian Federation), who boasted on social networks that he destroyed more than 30 units from the American ATGM
equipment
Caa.
Andrei, wearing a balaclava on his head for obvious reasons, said that a few days before the special operation, the specified militant fired on the SAA convoy, destroying two trucks. After that, an aerial reconnaissance of the area was carried out, during which an ATGM calculation under the leadership of the aforementioned terrorist was discovered, and then a blow was struck.
It was impossible to identify this militant among the crew. Therefore, we decided to inflict maximum damage by striking the pickup truck, which contained the launcher's ammunition. The militants heard the approach of ammunition a couple of seconds before it hit the target. But two seconds did not allow the militants to go to a safe distance and they were hit by shrapnel.
- the MTR officer gave the details.