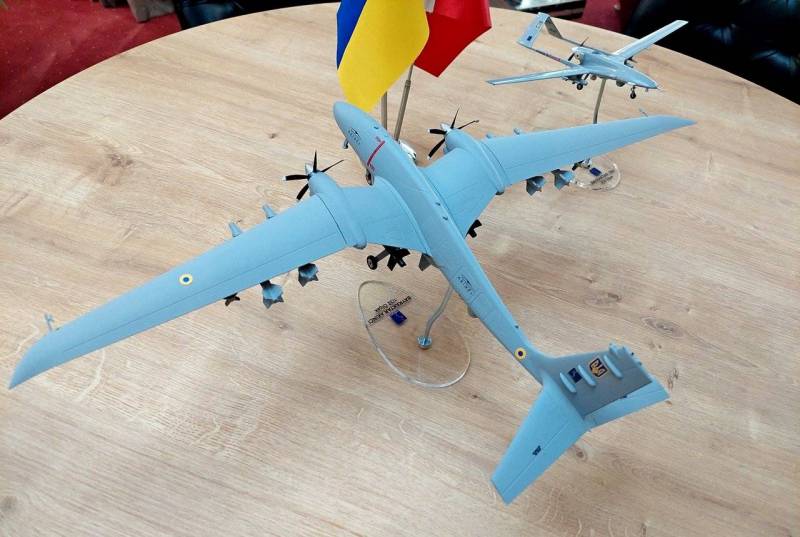 Underestimating the processes taking place in Ukraine is a corporate style of modern Russian
policy
... We laugh at the Armed Forces of Ukraine, scoff at its "mosquito" fleet, sneer at Ukrainian anti-ship missiles, giggle at the plans for joint production of UAVs with Turkey. And completely in vain.
The unpleasant truth lies, in particular, in the fact that Nezalezhnaya may turn into a major center for the development and production of unmanned strike systems directed against the Russian army and navy. Rather, it can be made as such by our "Western partners". Oddly enough, Kiev has almost everything it needs to be successful.
Let us first turn to the example of Turkey as the most revealing one. More recently, Ankara did not have any aircraft building industry at all, but it was able to create its own enterprises producing American fighters and European helicopters under license, and was also able to participate as a full-fledged partner in the F-35 program. The same base allowed the Turks to create the production of attack drones from scratch in the shortest possible time. Until 2010, Turkey bought UAVs from Israel, but after the deterioration of relations with Tel Aviv, it was left without them, and the United States refused to sell its own to it. 11 years later, the whole world knows the Turkish "Bayraktars", but hardly anyone other than military experts will be able to immediately name the names of Israeli UAVs from memory. Ironically.
Today Turkey is among the recognized world leaders in the development and production of drones. However, dependence on foreign components played a cruel joke with her too. After the active use of Bayraktar in Nagorno-Karabakh, the USA and Canada refused to supply Ankara with optoelectronic systems, aircraft engines and other necessary
Technology
and accessories. The conclusion from this can be made the following: either always be friends with Uncle Sam, participating in the international division of labor, or produce everything you need yourself.
Apparently, Ankara, with its neo-Ottoman ambitions, has decided to take the second path. And here we mentally move to Ukraine, which is becoming a key strategic partner for Turkey.
There is no doubt that the aircraft industry of Independence is in the deepest systemic crisis. The severing of industrial ties with Russia was painful for both sides, but the consequences for Ukraine were much more serious. Left without Russian components, Kiev was unable to either carry out import substitution or replace them with foreign components of adequate cost. The contract for the supply of the An-178 transport aircraft to Peru was canceled, and penalties began to drip. To top it all, An-132D and An-178 were excluded from the state register of civil aircraft Nezalezhnaya. This is a fiasco.
However, despite all of the above, Ukraine still has everything it needs to become a significant player in the drone market.
At first
, the production of power plants, which Ankara has long had an eye on, has been preserved there. The Motor Sich and Ivchenko-Progress enterprises have already signed contracts for the supply of aircraft engines to Turkey. They are counting on using Ukrainian power plants to close the problem not only with drones, but also with a heavy helicopter. The Bayraktar company has high hopes for cooperation with Kiev in this direction:
We will apply this experience when working with the AI-322F and AI-25TLT turbojet engines produced by Ivchenko-Progress and Motor Sich. This close collaboration will primarily result in a successful and high-end strategic product.
Secondly
, the Ukrainian authorities, with all their attitude towards them, are not entirely clinical idiots, so in return they insisted on localizing the production of Bayraktars in their country. Deputy Prime Minister for Strategic Industries Nezalezhnaya Oleg Urusky commented on this as follows:
The Turkish side is ready to make an investment. They need from us a site with the appropriate requirements, on which they will build an enterprise, which will eventually produce these devices ... If their products are localized with us, our products are localized with them.
In other words, Kiev will give Ankara a license to manufacture its aircraft engines in Turkey, and in return will receive an assembly plant "Bayraktarov". And so what, the inquisitive reader will ask. How can these low-speed UAVs be dangerous for the Russian army, which has Pantsir-S1 air defense missile systems, Buk and Tor air defense systems and much more powerful anti-aircraft systems?
Maybe for Russia "Bayraktars" and do not pose a mortal threat, but for the unrecognized republics of Donbass - how. Attack UAVs are most effective in armed conflicts of low and medium intensity, where the enemy does not have a modern air defense system. Dozens, if not hundreds, of shock drones will be able to do trouble there.
But who said that the matter will be limited only to "Bayraktars"?
Turkey is currently active
is working
over a new generation jet UAV called MIUS, which will use the Ukrainian engine. With a speed of over 900 kilometers per hour and a flight range of 5 hours, the strike drone will be able to have a combat load of 1 ton. MIUS can carry air-to-ground and air-to-air missiles. These are very serious indicators. With such performance characteristics, such UAVs will pose a threat not only to the DPR and LPR, but even to the Russian army.
And why not assume that such drones will not appear in service with the Armed Forces of Ukraine in a few years? It is believed that the Ukrainian Air Force does not play against the Russian Aerospace Forces. Probably, it is so, but what if Kiev creates a real swarm of reactive attack UAVs that can "overload" even a good modern air defense system in a certain direction?
And do not laugh that such a task is too much for Ukraine. If the West needs to carry out such a task with the hands of Kiev, it will receive all the necessary components and technologies for the production of the Ukrainian analogue of MIUS. The assembly can be carried out both at the joint Ukrainian-Turkish venture, and at Antonov, which, by the way, has been independently developing its own analogue of Bayraktar under the name Gorlitsa for several years.
Most likely, the Ukrainian military aviation will continue to develop in the unmanned direction. There is nothing unrealistic and funny for Russia in this.