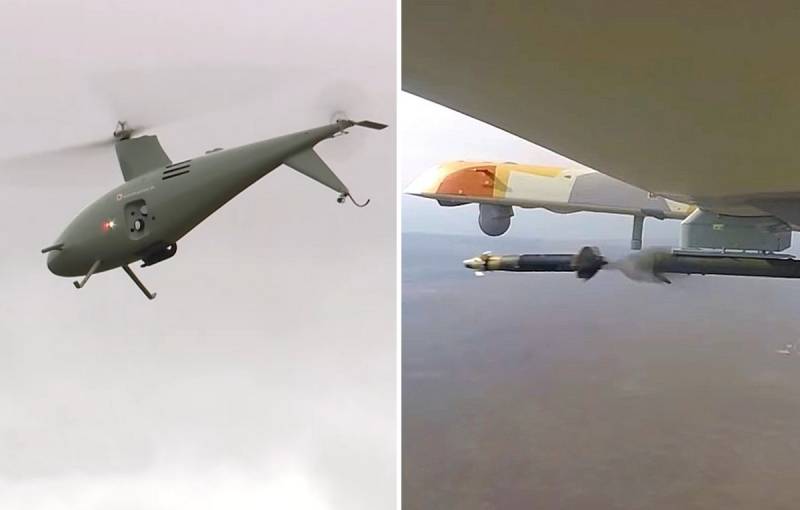 The Ministry of Defense of the Russian Federation organized an air battle between unmanned aerial vehicles at a training ground in Crimea. Spectacular footage of the Russian Orion UAV shooting down an unmanned helicopter from a distance of 4 km was published on the Web.
The video was posted on the YouTube channel Alexander Rogatkin Studio, a journalist from the All-Russian State Television and Radio Broadcasting Company.
For the first time, the military department declares that Russian drones have fighter capabilities and can destroy enemy drones
- indicated in the caption under the video.
Based on what is shown in the video, we can say with a high degree of confidence that the helicopter-type drone was destroyed not by an air-to-air missile, but by the 9M133FM-3 Kornet-EM anti-tank guided missile with a high-explosive thermobaric warhead. The video clearly shows how the ammunition leaves the transport and launch container suspended under the Orion's wing. Moreover, the characteristics of this ammunition include the possibility of firing at air targets moving at speeds of up to 250 m / s (900 km / h) with a flight ceiling of 9 km, which was clearly demonstrated on footage.
We remind you that the Orion drones, weighing 1 ton,
появились
in Crimea this summer. This was a response to the Turkish-made Bayraktar TB2 drones of the Ukrainian Air Force that began flying near Crimea.