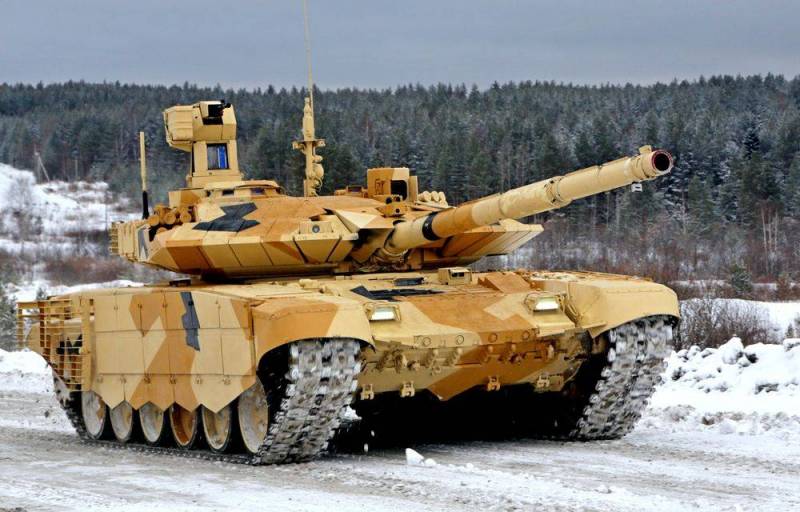 Developed back in the 1970s, the M1 Abrams remains the main arm of the US armored forces today. In turn, Russia has the formidable T-90 and, although today tanks are not the priority for most Western countries as they were before, there are still assumptions about which of these tanks will win the battle.
Over the past decades, "Abrams" has been modernized several times. Everything was improved, and almost nothing remained of the old M1. Instead of a weak 105mm gun, it received a first-class powerful 256mm M120 cannon. The tank is equipped with state-of-the-art fire detection and control equipment, improved depleted uranium alloy armor and powerful M829 armor-piercing feathered projectiles.
The M1A2 SEP v.2 variant is fully digital, but work is already underway on a more advanced M1A3. At the same time, American specialists want to reduce the weight of the tank, since it has grown incredibly during a continuous series of upgrades, and are also developing even more effective ammunition.
The USSR is long gone, just as there is no threat of a massive offensive by the Soviet army through the Fulda Corridor in Germany, but Russia continues to improve its tank forces. Another formidable combat vehicle was the T-90 tank - created on the basis of the Soviet T-72, which was chosen by the Russian government after the more advanced T-80 showed itself poorly during the two wars in Chechnya. The T-90 is essentially the T-72, but equipped with more advanced systems that were installed on the T-80U, with the exception of its gas turbine engine, which caused a lot of trouble for the tankers.
- wrote journalist Dave Majumdar in the American edition of the NI.
The author specifies that the T-90 is equipped with a good 125-mm cannon, but it has a diesel engine of only 1000 hp, which does not produce an ideal power-to-weight ratio. At the same time, the tank has new multi-layer armor, as well as active protection and electronic warfare systems.
In his opinion, the T-90 is a formidable combat vehicle, significantly superior to the development of the USSR, but in a tank duel the much more expensive M1A2 will have an advantage due to its better design. He stressed that the United States is not going to participate in a large conventional war in the foreseeable future, despite the conflict between Ukraine and the Russian Federation, so a real battle of the Abrams against the T-90 is unlikely to happen in reality. The author suggested that the American military might encounter Russian tanks in some kind of hybrid war, but in this case they will find effective and less costly ways to deal with them.