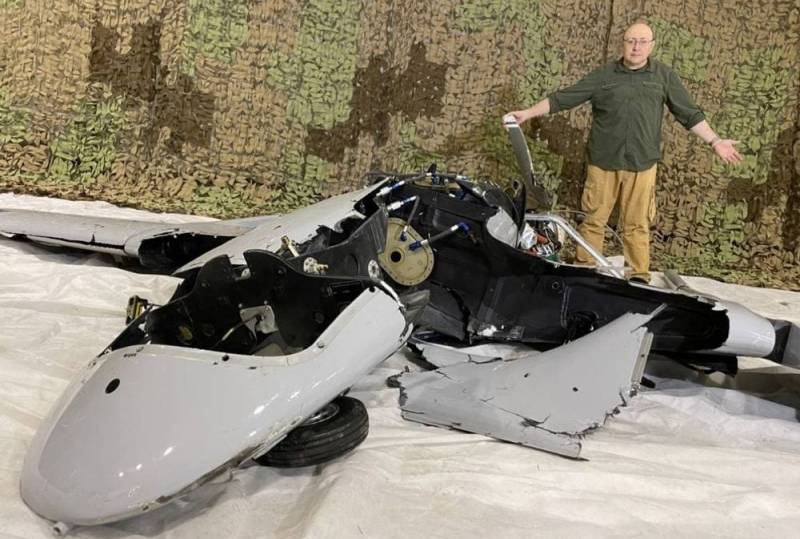 An image of the downed Turkish drone Bayraktar TB2, next to which is VGTRK journalist Alexander Rogatkin, has appeared on the Web. This indicates that this UAV is already in Russia.
On the territory of which country the Bayraktar was shot down is not specified. But studying it, even in this form, will be useful for Russia. However, the drone is quite well preserved.
Unfortunately, it is difficult to determine from the presented wreckage which particular Air Force this UAV belonged to. The thing is that the stuffing of the Turkish Air Force drones differs from the export "light" versions. At the same time, the export set (6 UAVs, 2 mobile control stations, 200 ammunition and auxiliary equipment) costs $ 69 million.
Turkish "Bayraktars" were used during the last war in Nagorno-Karabakh and are still used in Libya and Syria. In addition, their combat, albeit one-time, use in the Donbas was noted.
Currently, such drones are in service with Turkey, Azerbaijan, Ukraine, Qatar, Turkmenistan, PNS Libya, Morocco, Saudi Arabia, Poland and Tunisia. Contracts were signed for the supply to Iraq, Pakistan, Kazakhstan, Kyrgyzstan, Ethiopia, Oman, Nigeria, Lithuania, Latvia, Hungary, Bosnia and Herzegovina, Albania and Serbia.