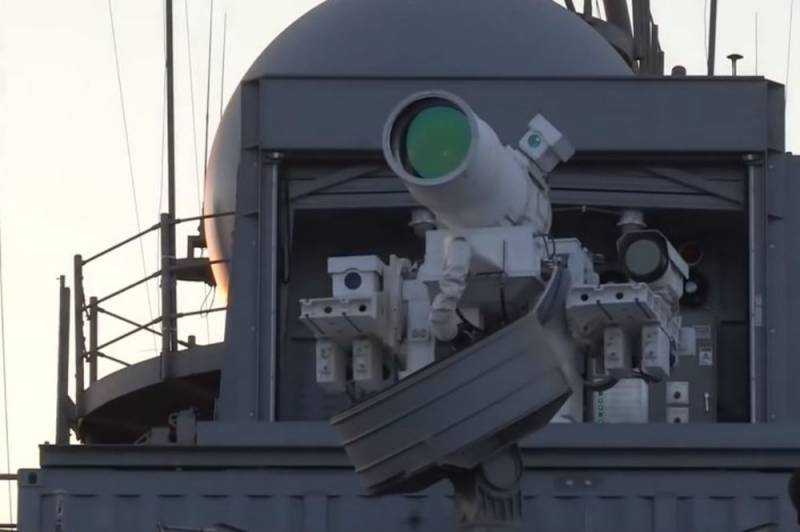 On December 15, it became known about the successful testing of laser weapons by the American landing ship "Portland" (USS Portland LPD-27) of the "San Antonio" type. This ship is part of the 5th Fleet of the US Navy and was the first to receive a combat laser installation.
The next testing of the LWSD Mk.2 Mod.0 solid-state combat laser, with an approximate power of 150 kW, took place on May 16 in the Gulf of Aden. It was directed against UAVs and drone boats, presumably Iranian and Yemeni.
December 16, Russian military expert of the Center for Analysis of Strategies and
of technologies
Sergey Denisentsev commented to the newspaper
"Sight"
available information. The specialist questioned the effectiveness of the laser weapons shown by the Americans.
He confirmed that against small UAVs and drone boats that do not have protective systems, this type of weapon will be effective under certain conditions. The laser guidance system can be suppressed or disabled by electronic warfare / electronic warfare systems, but low-tech opponents are unlikely to be able to resist it.
The meaning of the fight against combat laser systems is to suppress the guidance system, and not the weapon itself, with the help of electronic warfare and other methods. Therefore, the key question is what guidance system is used by the Americans
- said the expert.
Denisentsev clarified that the Americans, most likely, do not have a radar guidance system, the operation of which can be disrupted relatively easily, but an optical-electronic one - it is less vulnerable, but "this task is quite solvable." At the same time, he added that now the Americans are not solving the problem of protecting their combat laser, but are trying to achieve an increase in the effectiveness of hitting rapidly moving targets, without the consumption of conventional ammunition.
He also pointed out natural and other problems that prevent the widespread introduction of laser weapons. This type of weapon is highly dependent on the conditions of use and the power of energy sources. Any fog or smoke screen significantly reduces the efficiency of its use, and you can completely forget about using lasers under water. Laser weapons have a fundamental advantage over other types of weapons only in space, i.e. in an airless space.