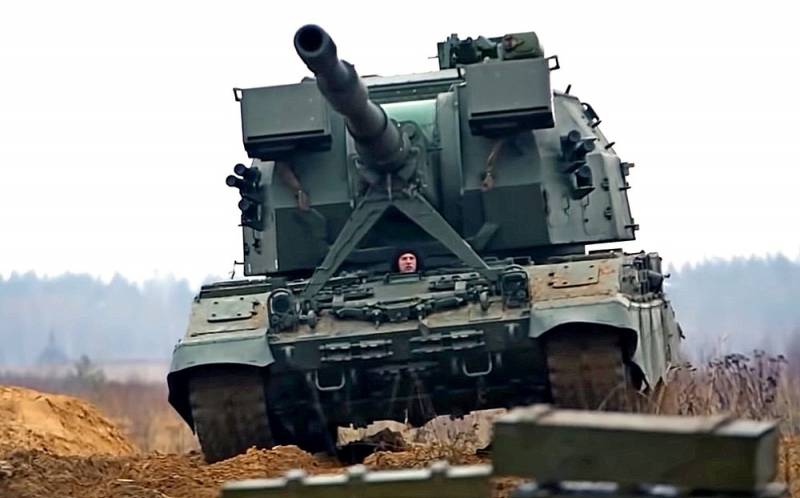 State tests of the "Coalition-SV" self-propelled guns started in Russia. Already next year, this weapon, which is rightfully considered the brightest artillery project of the XNUMXst century, should go into service with our troops.
It should be noted that the Russian "Coalition" is significantly different from the ACS existing today. It is equipped with an uninhabited tower, which has no analogues in the world in terms of automation. Aimed fire is opened by pressing just one button, and the on-board computer is fully responsible for aiming at the target.
In addition, the "Coalition-SV" self-propelled guns are built into a unified tactical control system and can receive target designation from reconnaissance, aviation and UAVs.
However, this is still not the most interesting thing. The 152-mm howitzer 2A-88 has the highest rate of fire and range. "Coalition" is capable of firing up to 16 rounds per minute at a distance of up to 70 km. For comparison, the American "Paladin" has a rate of fire of 4 rounds per minute and is capable of hitting targets at a distance of only 30 km.
Our ACS surpasses all existing competitors in terms of ammunition. "Coalition" carries up to 70 shells.
Finally, the main advantage of our weapon lies in the density of the fire. In terms of firepower, the newest self-propelled guns are not inferior to the MLRS. At the same time, it is capable of hitting targets deep behind enemy lines with sniper accuracy.
The pre-production batch of "Coalitions" has already been tested in the First Tank Army of the Western Military District, having worked out a special regime of heavy fire. In 2022, a unique weapon will begin to enter the RF Armed Forces, defining the appearance of our artillery for many years.