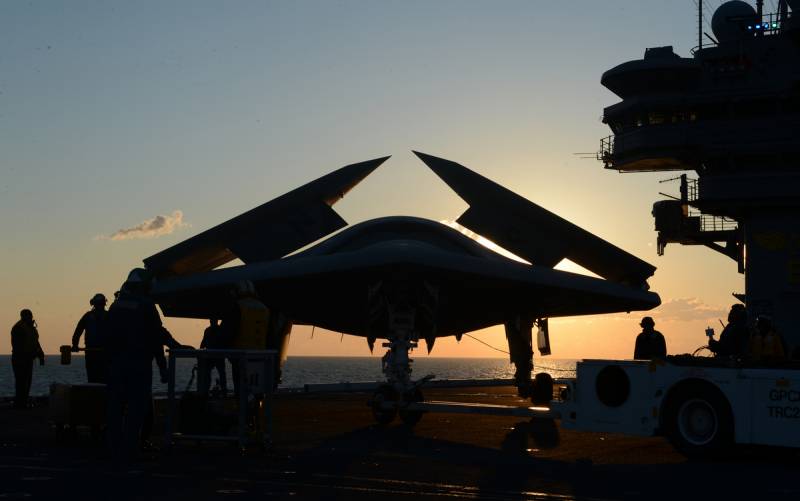 Suddenly. As reported a few days ago
TASS
With reference to its sources in the military-industrial complex, our navy may acquire a kind of "newest multipurpose platform" equipped with drones of light and middle classes. There is no specifics, however, according to fragmentary data, an image of something is emerging that strongly resembles the future Turkish "drone carrier". Apparently, the Kremlin was seriously concerned about the strengthening of the Turkish Navy and decided to give its "answer to Erdogan."
The fact that unmanned aviation is a very promising direction does not cause the slightest doubt. Yes, UAVs are seriously inferior in performance characteristics to manned fighters, attack aircraft and bombers, however, they are cheaper in production and subsequent maintenance, their loss can be quickly replenished, unlike the death of a professional pilot, they can perform a very wide range of tasks - from reconnaissance and issuing data for target designation missiles and aviation to direct strike functions.
This is especially important in the navy. Today, 11 US Navy AUGs undividedly own the World Ocean, and soon it will become 12. Contrary to the common and unjustified philistine notion, the carrier strike group with its carrier-based fighters and attack aircraft, AWACS aircraft for reconnaissance and targeting missiles of destroyers and URO cruisers, as well as multipurpose The submarine from the escort order is a terrible force that can sweep away everything in its path. Many countries, including Japan, Great Britain, China, South Korea, France and Turkey, are striving to possess aircraft carriers and the undoubted advantages that they give their naval forces.
And here it becomes noticeable that the further development of the aircraft carrier fleets went in two directions. For the United States and its allies, which have full-fledged carrier-based aircraft, drones are just an additional bonus that expands the capabilities of carrier-based aircraft. The Pentagon does not need separate "drone carriers" as such. The situation is different for countries that are at odds with Uncle Sam.
So, left without American F-35B fighters, Ankara was forced to revise the concept of its first universal amphibious assault ship TCG Anadolu (L-400). The Turkish UDC will be equipped with the Bayraktar TB3 mid-range strike drones, as well as the heavier new generation jet UAVs called MIUS. Ukraine will help Ankara in their production with the supply of aircraft engines, which we will discuss in detail
told
previously. This is a forced measure, but it is Turkey that will become the first country in the world to have a "drone carrier". Apparently, the promising Turkish aircraft carrier will also be equipped with unmanned carrier-based aircraft. Yes, it will be far from the F-35B, it is difficult to imagine an air battle with an enemy fighter, however, UAVs can be used for reconnaissance and patrolling, launching missile strikes against sea and ground targets, as well as for anti-submarine warfare.
As the saying goes, a drone carrier is better than no aircraft carrier. Apparently, the same reasoned in our military department. According to TASS, work has already begun in this direction:
We are currently designing a multipurpose platform for the Navy, which will carry on board a significant number of tactical drones and unmanned vehicles with reconnaissance capabilities ... Ship-based unmanned and autonomous systems will ensure their tactical use in the coastal zone and in the open sea.
Sounds good, but how can it all look in our reality, when shipyards are overloaded with orders, and ships are being built and repaired for almost decades? What kind of "multipurpose platform" could it be?
The most logical solution seems to be the transformation into "drone carriers" by analogy with the Turkish TCG Anadolu (L-400) of two Russian UDCs of project 23900, which are currently being built at the Zaliv plant in Kerch. Ships may actually appear by the end of the decade. The Mitrofan Moskalenko will become the new flagship of the Black Sea Fleet, and the Ivan Rogov will go to the Pacific Fleet, where, possibly, it will also become the flagship when the aging cruiser Varyag is fully modernized.
This is a simple and understandable way of obtaining two "drone carriers" for the Russian Navy at once. By the time both UDCs are launched, an appropriate fleet of reconnaissance and strike drones of light and medium classes should have been created, which was mentioned in TASS. However, curious details flashed in the message.
In particular, information was sounded that this "multipurpose offshore platform" will be equipped with a catapult for launching a UAV, as well as an aerofinisher. In truth, these are not attributes of a universal amphibious assault ship, but of a real aircraft carrier. For horizontal take-off and landing of a mid-range drone, which is essentially a small plane, you will still need a sufficiently long take-off deck. You need a place for a catapult and aerofinishers. In addition, it must be borne in mind that there is always a pitching at sea, which complicates the process of operating aircraft, whether manned or unmanned. So far, it has only been possible to effectively compensate for this negative factor by increasing the size of the ship. No wonder the American "Nimitz" with a displacement of under 100 thousand tons.
What do we have in the bottom line? In reality, the Russian Navy can get two "drone carriers" by the end of the decade only by re-equipping both UDCs of project 23900. What the TASS source in the shipbuilding industry hinted at is very much like an aircraft carrier, which we, as you know, "do not need for nothing." Is the RF Ministry of Defense finally ripe for an appropriate decision? But then it is not clear why build a new ship in the size of an aircraft carrier exclusively for UAVs, although we, unlike the Turks, have our own carrier-based fighters? What is this, some kind of echoes of a hidden hardware struggle for the future of the "forbidden" aircraft carrier? But then where will this "multipurpose platform" be built, if there seems to be no free production capacity for ships of this class?
In general, there are too many questions to be answered.