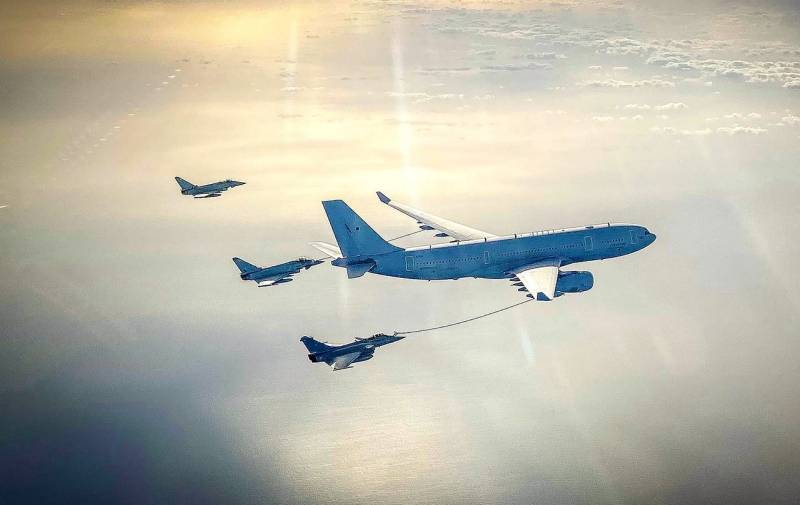 On December 8, three French military aircraft flew in the direction of the Russian state border over the neutral waters of the Black Sea.
The French "observation mission" was attended by tactical fighters "Mirage-2000" and "Rafale", as well as the C-135 tanker aircraft. Russian Su-27s of the Southern Military District flew out to meet them. Later, the French planes changed their direction of movement and proceeded in the opposite direction from the Russian borders.
A little later, there was a radio contact between the crews of the French and Russian warships in the Black Sea - the frigates Auvergne and Admiral Essen, respectively. According to the French side, the exchange of messages was carried out at a high professional level: the crews exchanged information on the courses and speeds of their ships, thanking each other. Auvergne, armed with artillery mounts and 16 cruise missiles with a range of up to 1 km, entered the Black Sea on Monday 14 December.
Earlier, Deputy Prime Minister of the Crimean Government, Permanent Representative of the Republic under the Russian President Georgy Muradov said about the high likelihood of new provocations of Ukraine in the Black Sea and Azov regions. One of the latest such cases was the demarche of the Ukrainian Navy ship Donbass, which was sailing on December 9 towards the Crimean bridge and did not fulfill the requirements of the Russian FSB to change its course. Later, the ship turned back and retired.