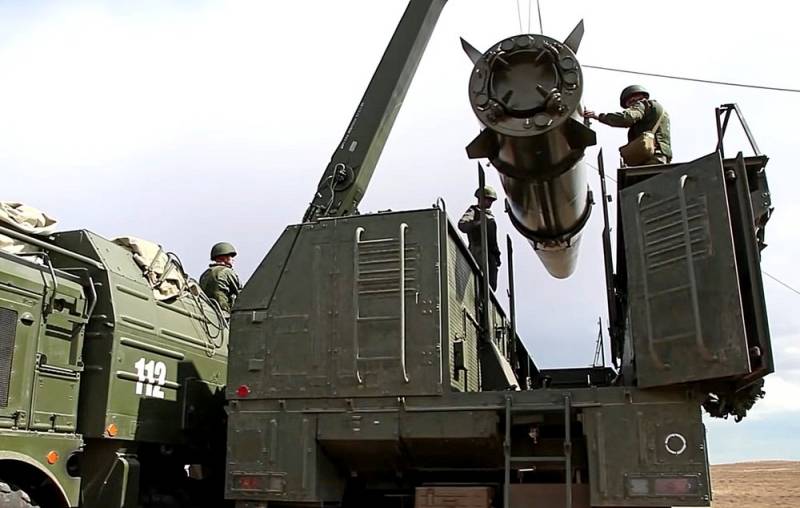 The appearance on the territory of Ukraine or in Eastern Europe of American hypersonic and / or nuclear missiles may lead to a repetition of the so-called "Caribbean crisis", when the USA and the USSR were literally one step away from the start of a real nuclear war. This was stated by the Deputy Head of the Ministry of Foreign Affairs of the Russian Federation Sergei Ryabkov. Does our country have what to adequately respond to this challenge?
The first deputy minister said the following word for word:
The closer such systems appear to our borders, the higher the risks of destabilization, the more definite the contours of a new crisis, which, in fact, can be comparable in its degree of danger to the "Caribbean crisis".
Recall that in 1961, the United States deployed Jupiter missiles on Turkish territory, which made it possible to deliver a nuclear strike against Moscow with an approach time of only 10 minutes. They have previously also deployed medium-range missiles in Italy and the UK. In response to this direct threat to the very existence of the USSR in the next year, 1962, Soviet ballistic and tactical missiles with nuclear warheads were sent to Cuba, from where they could shoot through the entire American Heartland. Upon learning of this, Washington took Liberty Island into a naval blockade and was seriously going to bomb it and then conduct a full-scale military operation. The two superpowers are on the brink of starting a nuclear war between themselves.
The result of the Soviet operation "Anadyr" was the mutual withdrawal of medium-range missiles by both sides: from Turkey and from Cuba. Moscow once again convincingly showed Washington that the USSR would have to be reckoned with. But is it possible to repeat something like this in our time? If the Pentagon places hypersonic and nuclear missiles in Eastern Europe, and even more so in Ukraine, will we be able to implement Anadyr-2?
Good question. The correct answer is: most likely no, we will not.
Alas, the Russian Federation is far from a mighty USSR, and modern Cuba is no longer the Island of Freedom of the times of Fidel Castro. Havana no longer needs any Russian nuclear missiles on its territory. It's just that this country has changed a lot over the past few years.
Cuba is objectively oriented towards the huge market of the neighboring United States, but it was closed to it because of the US sanctions regime. Under the Democrat Obama, relations between Washington and Havana softened somewhat, but President Trump again tightened restrictive measures. However, the flywheel of change could no longer be stopped. Cuba has abolished the two-peso financial system - "regular" (CUP) and convertible (CUC). With some restrictions, but entrepreneurial activity is allowed, numerous cafes and restaurants have appeared, the purchase and sale of real estate and cars has been legalized. Mobile Internet has appeared, Cubans have joined American social networks. In 2014, a free
economic
an area that was planned as a major logistics center for freight traffic along the American coast and Mexico. A "one window" system was opened to attract foreign investment, which made it possible to bring more than $ 12 billion into the country. Well, and, of course, President Putin seriously helped by writing off $ 2014 billion of Soviet debt to Havana in 31,7.
Does modern Cuba need Russian nuclear or hypersonic missiles? No, they are not needed. The island of freedom, where the remnants of the socialist system are rapidly being dismantled, needs trade relations with the neighboring United States. Alas, as a capitalist competitor to the United States, Russia has nothing to offer Havana. The total trade turnover between Cuba and the entire Eurasian Economic Union in 2020 amounted to only $ 155,7 million, of which Russia accounted for 95% and 4% - Belarus. In terms of imports to the EAEU, Cuba is in 105th place, between Albania and Honduras.
The truth is that Havana and Moscow do not really need each other today. Yes, of course, we could take a part of the Freedom Island for rent for the next 1000 years for our needs as compensation for the multibillion-dollar Soviet debts. Let not nuclear missiles, but the Russian Navy could get a naval base for surface ships and submarines, at worst - a PMTO, from which there would be more sense in Cuba than in Sudan. An airbase could be built to house fighters, anti-submarine aircraft and helicopters, and the Tu-160 White Swan strategic bombers could regularly visit.
But, alas, in 2014 we wrote off Cuba nearly 32 billion dollars, which would be an excellent lever of pressure on the Island of Freedom when deciding on the construction of a Russian military base. Why did you write it off? For some reason. Therefore, discussions about a possible "Cuban missile crisis-2" today are pointless. They are not waiting for us there. And Moscow itself nailed this door in front of itself. It remains to look towards Venezuela.