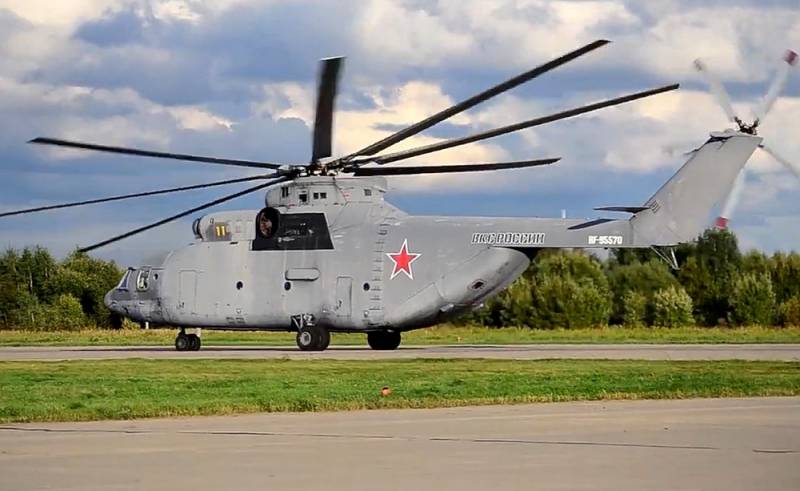 In August 2021 in Kubinka
crashed
the only prototype of the Il-112V turboprop transport aircraft, which killed all three crew members. A number of tasks that the Il-112V was designed to solve can be assigned to the Mi-26 helicopter, which is currently the largest serial rotorcraft in the world.
According to the German resource Flug Revue, the investigation into the August crash has not yet been completed, but experts believe that one of the reasons for the incident was engine problems.
One way or another, the program of the new Il-112V light military transport aircraft for the Russian military transport aviation has been postponed indefinitely. It is likely that the engine and the structure of the aircraft will be improved. In the meantime, some of the functions of the transport operator will be taken over by the Mi-26 helicopter, the newspaper believes.
Mi-26 is the largest, heaviest and most powerful serial helicopter built in the world. Moreover, it is much larger than the Il-112V transporter. The carrying capacity of the Mi-26 is about 20 tons, which is equal to the maximum take-off weight of a turboprop aircraft. However, for more than 35 years of use, the giant helicopter has proven itself to be the best and is available in sufficient quantities in the Russian Air Force. This, in particular, says the deputy chairman of the board of the Military-Industrial Commission Andrei Yelchaninov.
The Ministry of Defense decided that a number of tasks, which the Il-112V light military transport aircraft should potentially perform, will be taken over by the Mi-26 helicopter. Perhaps they will purchase additionally, or make more active use of the existing fleet
- quoted by Yelchaninov agency
Interfax
.
In the future, the army expects to receive new modifications of these rotorcraft. For example, Russian Helicopters, a subsidiary of Rostec, is now testing a modernized version of the Mi-26T2V, which may go into serial production in the future.