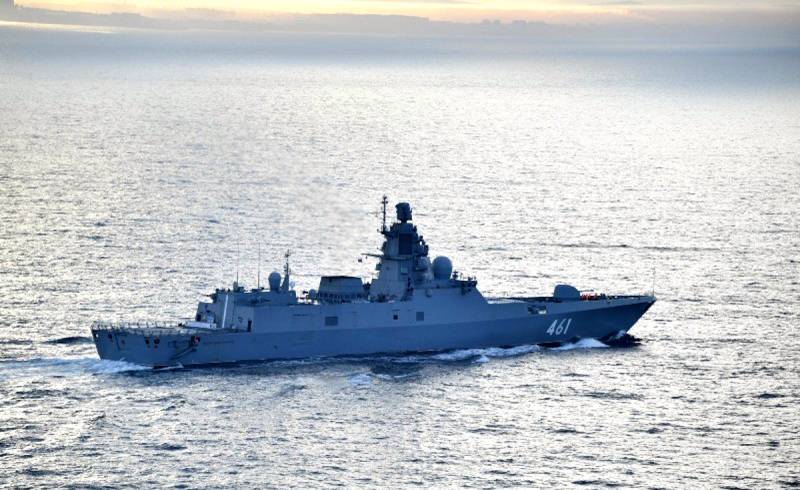 Recent
article
about the possibility of building a promising destroyer in Russia on the basis of the upgraded BOD 1155.1 project aroused a storm of emotions among the readers. For too long we were artificially accustomed to the idea that we cannot build ships of this class, badly needed by the Russian Navy, that many were morally unprepared to debunk this propaganda myth and met the information with denial and aggression. In view of the critical importance of this topic for the defense capability of our country, I would like to add more clarity to it and dot the i's.
So where have we come to? There is a Soviet project of a large anti-submarine ship of project 1155.1, which in fact is a real destroyer. BODs were built at the Yantar plant in the Kaliningrad region, and 8 units have survived to this day. Several years ago, the RF Ministry of Defense began the planned modernization of Project 1155 to the level of "frigate" and "destroyer". The only problem is their venerable age, 40 years on average, which makes it possible to extend the life of the former "anti-submarine" by 10-15 years, but it is infinitely impossible to do this. That is why we raised the issue of resuming the production of these ships on a modernized project from scratch.
And then it began. It turns out that we again have no one and nowhere to build destroyers, again there are no power plants, or rather, there are, but for some reason there will not be enough of them for all ships, the projected ship cannot be increased in size, etc. Let's now talk about these bottlenecks.
No power plant?
Actually, there is already. A series of promising Russian frigates of Project 22350 uses the CODAG (COmbined Diesel And Gas turbine) scheme. It is a combined diesel-gas turbine power plant, in which a diesel engine and a gas turbine work together on one propeller shaft, used on military or specialized ships. The domestic diesel-gas turbine unit (DGTA) М55Р consists of several elements: a diesel engine 10D49 with a capacity of 3,7 MW, a gearbox and a gas turbine engine М90ФР.
Why so many things? For the sake of greater efficiency: warships usually run on diesel engines, and if afterburner is necessary, they switch the gas turbine branch of the power plant with a capacity of 20 MW. Ukraine left us in 2014 just with a gas turbine engine and a gearbox, and domestic manufacturers had to replace them with imports at a rapid pace.
Import substituted. The production of its own gas turbine engine M90FR, as well as a gearbox has been launched. The first M55R power plants began to be supplied to Project 22350 frigates. And this is indeed a great success. But how can he help us with promising destroyers? Will the M55R have enough power for a ship with one and a half times the tonnage?
Indeed, the project 22350 frigate has a standard displacement of 4550 tons, a total displacement of 5400, for a project 1155.1 BOD it is 7740 and 8320 tons, respectively. At the same time, we have already dreamed of bringing the full displacement of a promising destroyer to as much as 9000 tons in order to cram a maximum of weapons into it. Will the power plant pull such a colossus from the frigate, which is more than one and a half times smaller? Perhaps, but only with this arrangement.
There is also another scheme called COGAG (COmbined Gas turbine And Gas turbine - a combination of a gas turbine and a gas turbine). It is a power plant in which two gas turbines work together on a single propeller shaft. This arrangement allows the gearbox to operate either of the two turbines alone or both together. The use of this scheme on a promising destroyer will make it possible to use 4 M90FR gas turbine engines with a capacity of 27 hp at once. With. each, which will give a total power plant capacity of 500 liters. With. For comparison, the American "Arleigh Burke" has 110, thanks to 000 LM100 from General Electric of 000 liters. With. each one. It will not be so economical, but the maximum speed of the Russian destroyer can rise to 4 knots!
By the way, the UEC is talking about increasing the capacity of the M90FR from 20 MW to 25. Accordingly, the performance characteristics of the ship's power plant will also grow.
What conclusion can be drawn from this? Such that engines for a ship of the size of a destroyer, or even larger, we, in principle, have. The argument that there won't be enough turbines for everyone is generally very strange. The larger the batch, the lower the costs and the higher the efficiency of production. The basics
economics
... UEC has been contracted for M55R for six frigates until 2025. That's all for now. The destroyers will need M90FR gas turbine engines, so it will be profitable for the corporation to expand their production.
Will it be too little?
Now with regard to the fact that the problem is allegedly an increase in the total displacement of the BOD to 9000 tons, since this implies a change in the project. To this I would like to answer that the project will have to be reworked anyway, but the practical experience of modernizing the Marshal Shaposhnikov and Admiral Vinogradov BODs can seriously help in this. The redesign itself can be broken down into two stages.
So, on the first one it would be possible to lay down at the shipyard a couple of ships in the dimension BOD 1155.1, which is provided for by the existing project. Subsequent ones can be built according to a project with a greater degree of processing; there are at least several more years in stock. By the way, the difference between 8320 and 9000 full displacement is not so critical to grab your head and pull your hair out because of
technical
the impossibility of the task. The same Americans are constantly modernizing and improving their "Arleigh Burke", gradually adding tonnage.
Probably, this is our path too.
Nowhere to build?
There is where. Where the BODs of projects 1155 and 1155.1 were built, at the Yantar plant in the Kaliningrad region. It cannot be said that the enterprise is idle, however, such large orders as the construction of large landing ships "Ivan Gren" and "Petr Morgunov" are already behind. If you know how to arrange tasks according to the degree of importance and priority, then the construction of new destroyers for the Russian Navy will undoubtedly be a priority.
So everything is in our hands. Frigates of projects 22350 and 22350M can be built in parallel with new destroyers based on project 1155.1M and in a more reasonable time solve the problem with an acute shortage of 1st rank ships in the Russian Navy.