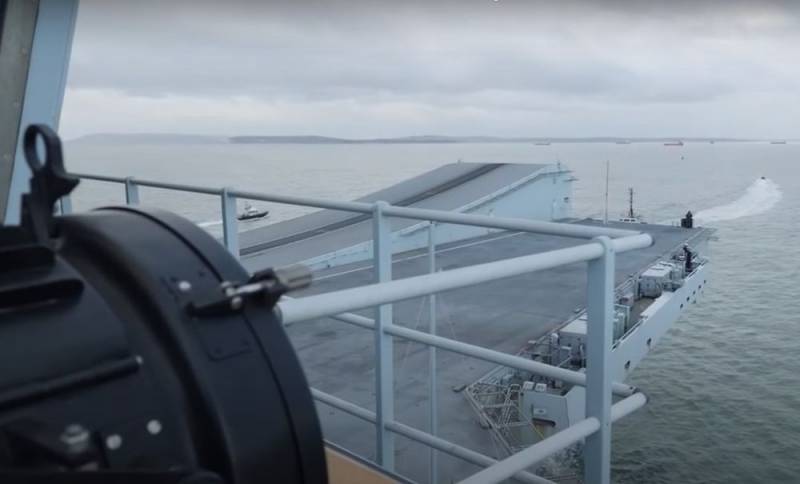 The first mission of the British Navy aircraft carrier Queen Elizabeth has come to an end. The sailing of the newest ship, which lasted 7 months, ended with a return to base in Portsmouth. However, questions regarding the loss of the £ 35m F-100B fighter-bomber remained. This is stated in the report of the British television company Sky News on December 10.
The long voyage of the aircraft carrier as part of the AUG, accompanied by a series of maneuvers, was supposed to signal to the world community that London was again able to strike almost anywhere in the world. But the ship's air group did not return in full force. In mid-November in the waters of the Eastern Mediterranean, one F-35B
collapsed in the inlet
from the deck of an aircraft carrier during takeoff.
It has not yet been possible to find out exhaustive details of the crash, although the wreckage of the F-35B has allegedly already been lifted from the seabed. At the same time, the command of the Royal Navy decided to present the loss of the aircraft in a positive way, because the pilot survived, and the ship's team responded promptly.
In the summer, the crew of the floating airfield survived the outbreak of COVID-19 on board and
faced
with "hostile actions of the Russian Federation." Therefore, the successful ejection of the pilot, even before the F-35B managed to rise into the sky, was assessed "as a successful use of high
of technologies
».
Colonel General Charlie Strickland of the Joint Operations Command explained that "you just have to accept the fact that the use of fifth-generation carrier-based aircraft is an adult thing." He added that the use of the F-35B is "complex and requires careful planning." The investigation into the incident is still ongoing, but flights were resumed after a break of 36 hours.
First class sailor, military paramedic Lauren-Lee Wilson said that the pilot, after being lifted from the water on board, was sent ashore to be examined by doctors again. The pilot turned out to be all right and the next day he was on board.
MTO specialist, sailor William Augustine noted the efficiency and well-coordinated work of the team.
Exercise and preparation is for that, so that we know how to quickly recover and respond. Most importantly, nobody died
He summed up.