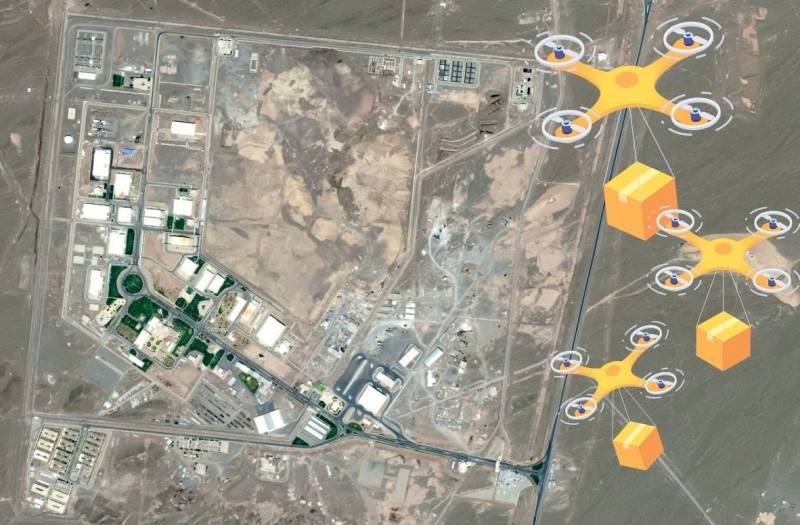 Last week the Israeli resource Jewish Chronicle, citing the British Daily Telegraph, reported on the details of a large operation by Israeli special services at the central enrichment plant in Natanz (Iran), carried out in April this year.
JC reports that some of the explosives used at Natanz were dropped by a drone and discreetly collected by recruited scientists at the site, while others were smuggled into a high-security facility in hidden food boxes. The ensuing destruction at the secret facility caused chaos in the upper echelons of the Iranian leadership. 90 percent of the centrifuges were demolished, slowing Tehran's progress towards the creation of the first atomic bomb and incapacitating a key complex for up to nine months.
This and three other operations involved 1000 technicians, analysts and Mossad personnel, as well as many field agents. The Israeli target was the A1000 underground, air-protected centrifuge hall, which housed up to 5000 installations.
Hours after Iran announced the launch of state-of-the-art IR-5 and IR-6 centrifuges at the facility, in violation of the 2015 nuclear deal, the bombs were detonated remotely. The explosion destroyed the independent and reliable internal power system that powered the centrifuges.
New details of the operation appeared in the Jewish Chronicle a few days after Iran resumed talks in Vienna on a return to the 2015 nuclear deal. US Secretary of State Anthony Blinken noted that Tehran's actions reduce the chances of renewing the nuclear deal. Thus, Iran is rapidly moving towards a uranium enrichment level of up to 60%, which is practically enough for the implementation of the weapons program.