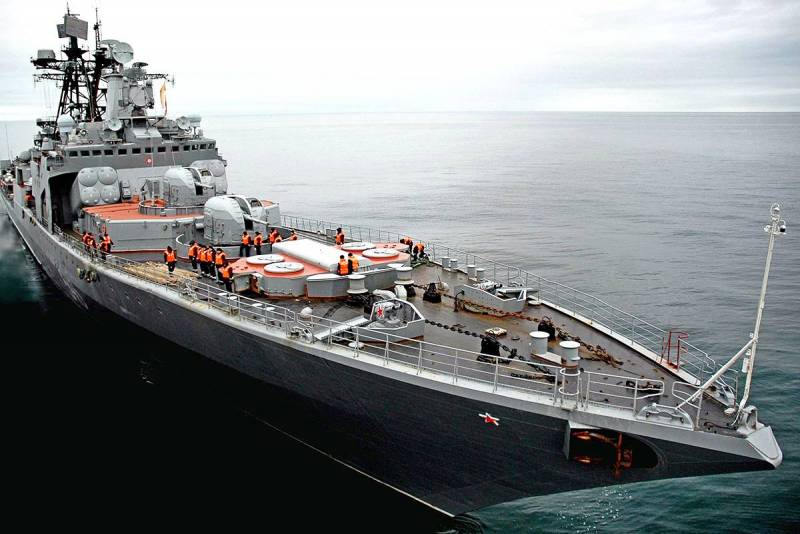 Today, the main problem of the Russian Navy, in addition to the virtually complete absence (with the exception of the half-dead TAVRK "Admiral Kuznetsov" and two UDC under construction) aircraft-carrying ships, is an acute shortage of large surface ships of the 1st rank, capable of operating in the far sea zone. These problems are directly interconnected: a "clean" aircraft carrier or helicopter carrier without a cover order in a real battle is not a tenant, but also a ship group that does not have anti-aircraft cover for its carrier-based aircraft and anti-submarine helicopters against fighters, destroyers and URO cruisers, as well as multipurpose submarines AUG, against such an adversary will not stand. This is a dance to be danced together. Let's talk about multipurpose frigates and destroyers, which are badly needed by the Russian navy.
One of the stubbornly propagated theses of anti-Russian propaganda is that our country is allegedly unable to build a ship larger than a frigate. Alas, there is some truth in this, but this is far from the whole truth. The loss of Ukraine and its shipbuilding enterprises was a huge blow to the domestic fleet. All significant programs of the Russian Navy were disrupted, the deadlines were sharply shifted to the right due to the need to import substitution of power plants and other equipment. Nevertheless, with the frigates of Project 22350, things got off the ground, and this is, without exaggeration, a significant breakthrough.
Objectively, it is the frigates of Project 22350 that should become the main "workhorse" of the Russian Navy in the distant sea and ocean zones. The ships are equipped with modern missile and anti-submarine weapons, air defense systems. At the same time, the project is constantly being finalized and improved. So, the fifth and sixth frigates in the series will receive 32 vertical launchers of the UKSK complex instead of 16 on the first four, which will double their strike potential.
However, a frigate is a frigate, and the fleet also needs a destroyer. The easiest way seems to be the modernization of the original project to the level of 22350M. The new ship will grow in size (8000 tons of full displacement against 5400 for the frigate), the cruising range will increase from 4500 miles to 6000, weapons will become more powerful: 48 universal launch cells for missiles "Onyx", "Zircon", "Caliber", air defense air defense systems " Polyment-Redut "for 64 cells for anti-aircraft missiles, two helicopters instead of one and two UAVs in deck hangars. It will be a very serious warship, corresponding to the destroyer class.
There is only one "but". The first "superfrigate" of project 22350M will be laid down only in 2024, as the head of USC Vladimir Korolev recently announced:
Starting in 2024, we will begin construction of the head modernized frigate. We are aware that a modern frigate with a large displacement and armament is in great need of the Navy. Currently, this issue is being actively worked out in the Ministry of Defense.
That is, the Russian Navy will have to wait decently even with a bookmark. Plus construction time. Let us remind you that the frigates are being built in large series at Severnaya Verf in St. Petersburg. Is there a way to replenish our fleet with powerful new multipurpose destroyer-class ships in a shorter time frame?
Modernization
Here it is necessary to recall the largest series of large anti-submarine ships of projects 1155 and 1155.1, which are still preserved in the Russian Navy in the amount of eight pieces. The total displacement of the BOD is 7620 tons, which practically corresponds to modern destroyers. Ships of project 1155 were created specifically to combat enemy submarines, while weak anti-aircraft and artillery weapons, the absence of anti-ship missiles were rightly attributed to their shortcomings. To compensate for this, the BODs were forced to operate in tandem with the destroyers of Project 956 "Sarych", which de facto belonged to the class of light cruisers.
Separately, we note and emphasize that most of the shortcomings of the original project were eliminated in its modernized version 1155.1, according to which only one BOD "Admiral Chabanenko" was built. Retaining anti-submarine weapons, he received powerful artillery and anti-ship missiles, as well as two Ka-27P anti-submarine helicopters instead of one. Perhaps the last relatively weak point in it was the lack of effective medium and long-range air defense systems. In general, "Admiral Chabanenko", despite its age, even today is almost a full-fledged destroyer, to which it belongs in the western classification.
Experiencing an acute shortage of large surface ships in the far sea zone, the Russian Navy began the planned modernization of the Project 1155 BODs that remained in service. The first was Admiral Shaposhnikov, but the experiment is considered not entirely successful. On the one hand, the anti-submarine vessel has turned into a frigate due to the receipt of 16 universal launch cells capable of carrying Caliber, Onyx or Zircon missiles, a more powerful A-190-01 artillery mount and 8 Uranus anti-ship missiles. On the other hand, for some reason, it retained the obsolete and bulky torpedo tubes ChTA-53, the ineffective Kinzhal air defense system, in fact, there is no anti-torpedo armament. That is, the former BOD became formally more powerful, but remained almost as defenseless as before, against enemy aircraft and submarines.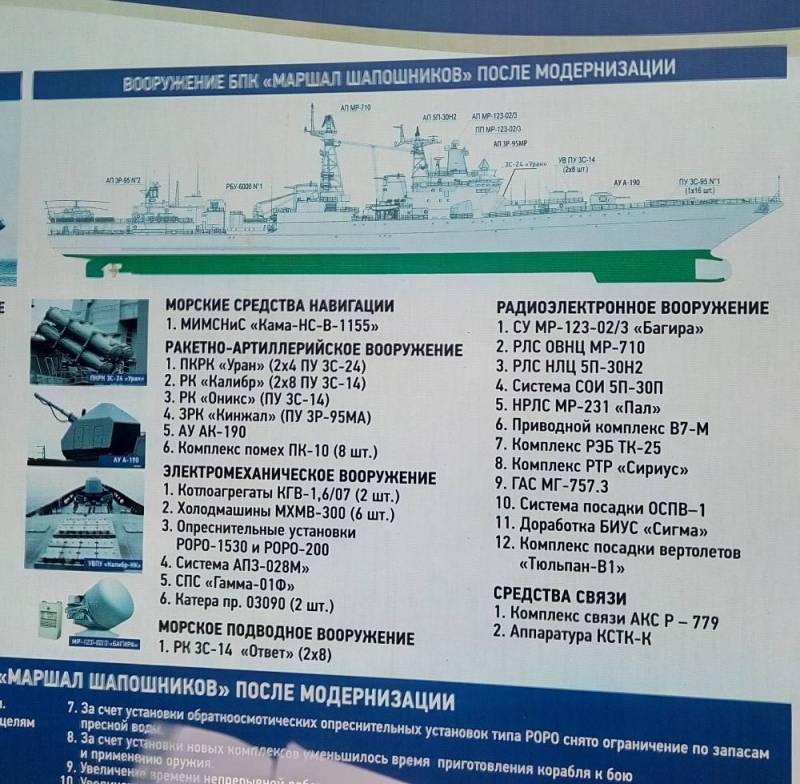 The Russian Navy decided to work on the errors on another ship of the project 1155 "Admiral Vinogradov". It is stated that instead of 16, the newly-minted "frigate" will receive 32 missiles, and the number of anti-ship "Uranus" will increase from 8 to 16. The modern air defense system "Shtil-1" will be responsible for the anti-aircraft defense - GAS "Polynom", the complex "Packet" , missiles "Answer", as well as an air group of two Ka-27P anti-submarine helicopters. Now that's a completely different matter! The end result is either a destroyer or a light cruiser. Obviously, for a similar modernization project, it is necessary to drive out all the available BODs. And this is the right decision.
But let's not forget about age. Already now, the average age of Soviet anti-submarine warriors is 30-40 years. Modernization will extend it by 15 years. Then what? "Superfrigates" of project 22350M? It will be good if all the shipbuilding plans are implemented and do not fail. But perhaps there is another option.
Resumption of production?
As you can see, Project 1155 represents a very vast space for modernization, its main problem is only the old age of the ships. But what if you just resume their production immediately according to the modernized project? Now production of Tu-160M ​​strategic missile carriers has begun in Kazan, so why not apply this approach in the Navy as well?
Let's remember how good Project 1155.1 was, and "Admiral Chabanenko" has not lost its relevance even today. The ships of this series were not built in St. Petersburg, but at the Kaliningrad Yantar shipyard, that is, orders for it can be loaded not with Severnaya Verf, but with another shipbuilding enterprise. What could an updated and modernized destroyer, built in Russia from scratch, look like?
At first
, the updated ship should be increased in size, bringing the total displacement to 9000 tons, which will allow to cram more weapons into it, and to carry out the hull using stealth
of technologies
.
Secondly
, in terms of the power plant, it must be unified with the frigate of project 22350M by installing the M90FR gas turbine engine. This will increase the series of engines, reduce the cost and simplify their subsequent maintenance.
Thirdly
, on a larger ship, it will be possible to install from 60 to 80 universal launch cells, placing them in the bow and on the side. This practically equals the Russian destroyer with the American Arleigh Burke in terms of striking power.
Fourthly
, as an air defense system, it will be possible to use the more powerful anti-aircraft missile system "Polyment-Redut", as well as the ZRPK "Pantsir-M".
Fifthly
, to combat submarines, it is possible to combine a modern GAK, the Packet-NK anti-submarine defense and anti-torpedo defense complex, as well as two Ka-27P anti-submarine helicopters.
In other words, with minimal revision of Project 1155.1, Russia can get an excellent modern multipurpose destroyer. All technical documentation and component base are already available, there is a new import-substituted engine for the ship. This means that the Russian Navy can receive in more adequate terms and project 22350 frigates, and Project 22350M "superfrigates" built at Severnaya Verf, and powerful destroyers based on Project 1155.1, and the Kaliningrad shipyard Yantar will only be glad of this. order.
Maybe it's worth considering?