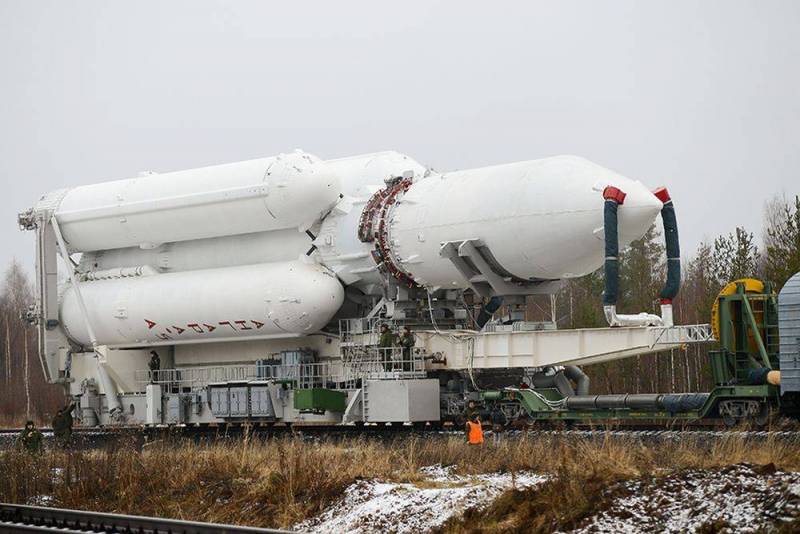 At 18:00 Moscow time on December 23, a Russian heavy-class launch vehicle (LV) Angara-A5 is to be launched from the Plesetsk cosmodrome (reserve launch date is December 24). The administration of the Kargasoksky district of the Tomsk region informed the Russians about this on its page in the social network "VKontakte".
Attention! According to information received by the Department of Protection of the Population and Territory of the Tomsk Region from the State Corporation Roscosmos, it is planned to launch the Angara-A5 space rocket from the Plesetsk cosmodrome.
- indicated in the communique warning about the imminent launch of the most powerful launch vehicle in Russia.
The official report notes that the fall zone of the separating parts of the launch vehicle is partially located on the territory of the Kargasoksky, Parabelsky, Kolpashevsky and Verkhneketsky districts of the mentioned region. The territory of this zone is bounded by an ellipse with axes of 160 x 50 km, the center is located 65 km north-west of Lake Tresch. It is specified that the type of the separating parts of the launch vehicle will be the second stage, the destruction of the fragments of which during the fall will be accompanied by a bright glow.
A request to the population, for safety reasons, refrain from visiting the territory of the fall area at the specified time. We kindly ask you to inform the Department of Protection of the Population and Territory of the Tomsk Region in the event of the discovery of fragments of the launch vehicle
- summed up in the publication, accompanied by a map of the area.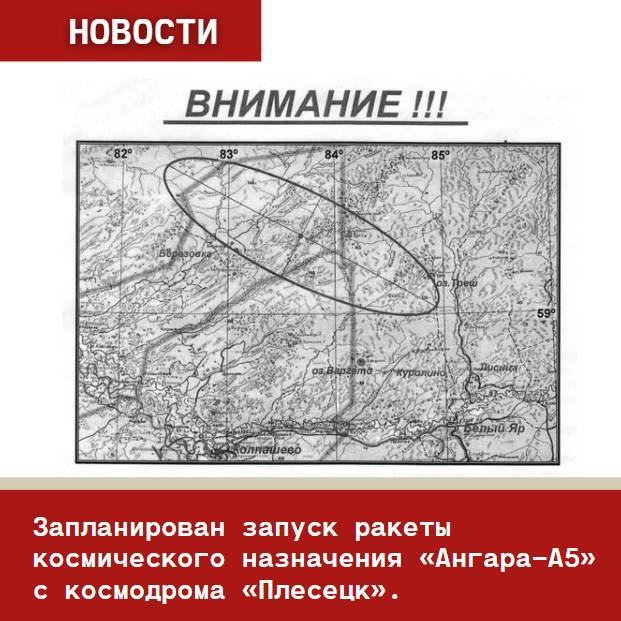 Note that before that there were only two flight design tests (launches) of the "Angara-A5" LV. The first took place on December 23, 2014. Then the launch vehicle weighing 768 tons, including the satellite overall mass mock-up (payload) weighing 2,04 tons, which is inseparable from the Breeze-M upper stage, was successfully tested. The first stage fell at the Vuktyl missile range in Komi, the second at the Kolpashevo missile range in the Tomsk region, and the third in the Philippine Sea.
The second flight test took place 6 years later on December 14, 2020. It was also successful and similar to the first.
The third flight test was scheduled for December 2021. Moreover, this time the upper stage of the third stage of the launch vehicle should be "Perseus" (14C48). This is a representative of the family of upper stages "D" - the fifth stage of the N1-L3 space rocket complex, designed for Soviet cosmonauts to fly to the moon. It uses a pair of liquid oxygen - kerosene as fuel, and it is allowed to refuel with "synthin" without reworking the structure. There will also be a size and weight model of the satellite.
The fourth flight design test with the Perseus upper stage (14C48) is to take place in 2022 also from the Plesetsk cosmodrome.