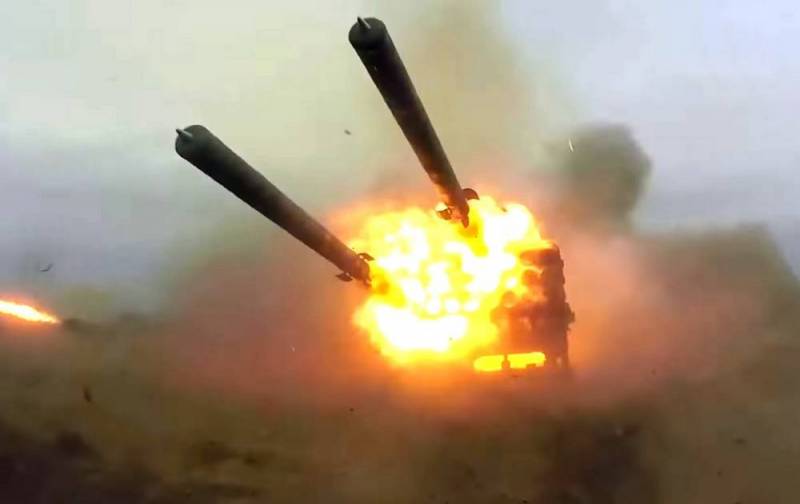 The rockets of heavy multiple launch rocket systems (TOS-1 "Buratino" and TOS-1A "Solntsepek") are so destructive that they should be banned, writes expert Brent M. Eastwood for the American edition 19FortyFive.
Ammunition is a thermobaric weapon. When applied, they form an aerosol cloud, which, as a result of detonation, turns into a ball of fire, burning out everything and penetrating into the most secluded corners, where ordinary means of destruction cannot reach.
Soviet TOS-1 "Buratino" mounted on the basis of the T-72 tank. They are equipped with a launcher with a package of 30 guides for 220 mm unguided rockets. The USSR first used them in Afghanistan in 1988 against militants hiding in caves. Then the Russian Federation used these systems during the hostilities in Chechnya.
In 2001, the Russian TOS-1A "Solntsepek" appeared. The range was increased from 4,5 km to 6,0 km, but the number of NURS guides was reduced to 24. The Russians used them in Syria and sent these deadly systems to the Ukrainian border in 2015.
Russia exported TOS-1A "Solntsepek" to Armenia, Azerbaijan, Iraq, Syria and Kazakhstan at a price of 6,5 million per unit. Armenians and Azerbaijanis used them against each other in 2020 in Nagorno-Karabakh.
No one is immune from such a dangerous weapon. Can the international community stop using it?
- the author is interested.
In 1980, a document was developed called "Prohibition or Restriction of the Use of Incendiary Weapons" (Protocol III). Human Rights Watch and the International Human Rights Clinic at Harvard Law Schools are working to encourage more countries to comply with the ban. However, Protocol III was created more than 40 years ago and is too narrow, it does not cover thermobaric weapons, concerning general purpose incendiary ammunition and with white phosphorus, as well as napalm.
It's time for human rights groups to take a closer look at thermobaric weapons and develop norms for regulation. Its use may have become too widespread to attempt to ban it entirely. Countries will likely formulate a response that describes the legality of the use of this nightmare weapon.
- summed up the author.