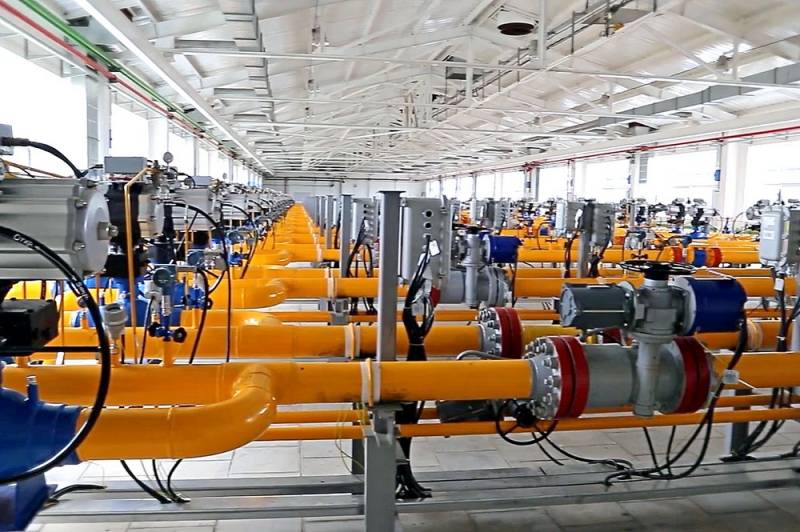 The reserves of "blue fuel" in underground gas storages in Ukraine are decreasing by 2-3 percent every day and may not be enough until spring. The main winter energy raw materials have not been pumped into UGS facilities since the beginning of October, according to the Ukrainian news agency UNIAN.
The media notes that by winter, the fullness of Ukrainian UGS facilities amounted to slightly more than half of the total volume - 16 billion cubic meters. m. of 31 billion cubic meters. m. Currently, gas reserves are disappearing literally before our eyes, although a year ago Ukraine boasted record gas reserves - almost 27 billion cubic meters. m. and was even going to sell it to the EU.
This autumn was extremely favorable for Ukraine. The average temperature in November was + 7- + 8 ° С. At the same time, over 2 billion cubic meters of gas were pumped out of the UGS facility in that month. m. of gas. There are still 4,5 months ahead when it is necessary to heat the premises and infrastructure. But the volume of consumption of "blue fuel" will largely depend on weather conditions, since on frosty days the gas extraction increases, and decreases with warming.
The authorities assure that there will be enough gas for Ukraine for the winter. But an elementary mathematical calculation indicates that this will happen only when all Ukrainian officials and power engineers ask Grandfather Frost for a fabulous gift - "subtropical winter" so that the air temperature does not drop below zero.
- explains the media.
In Ukraine, in general, about 55 million cubic meters are mined (by companies of all forms of ownership). m. of gas per day. However, the total daily consumption during the heating season is 130-140 million cubic meters. m. of gas., of which 80-90 million cubic meters. m. of raw materials falls on household consumers (population) and heat producers. It is possible to cover the difference between production and consumption by means of reserves in UGS facilities, if they were previously pumped there.
In the period from December 2021 to mid-April 2022, about 11 billion cubic meters will be pumped out of the Ukrainian underground storage facilities. m. "blue fuel". However, of the remaining 16 billion cubic meters of storage facilities in the UGS. cubic meters of gas, 3-4 billion cubic meters. m. raw materials do not belong to Ukraine, but are stored there by European firms.
Frosts in January-February can create a daily fuel shortage of 30 million cubic meters. m. of gas. In order not to turn off the population, the government may have to restrict the supply of raw materials to enterprises. By March, Ukrainian UGS facilities will have reserves that cannot be pumped out, since they maintain the required pressure - this is a buffer gas and there will be a shortage of raw materials.
Ukraine can theoretically pass the heating season "with grief in half", but the need for gas will not go anywhere. The most painful issue for the residents of the country in the new year will be the price of gas. From May 1, the fixed price for gas for the population will expire and market relations will begin. This suggests that the next heating season may become even more shocking and people will not be able to pay "space" bills for communal apartments.