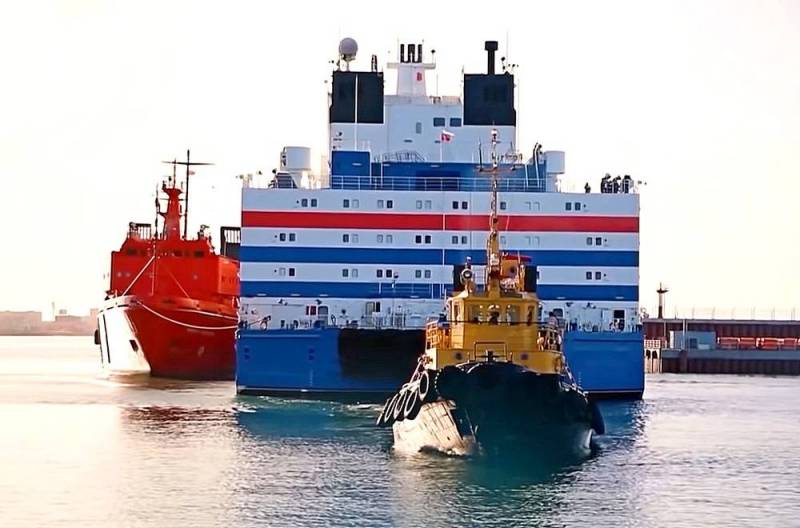 While radical ecologists dream of a complete rejection of fossil fuels, serious people are engaged in the development of nuclear energy, behind which experts see the real future of world energy. However, most likely, these will not be huge nuclear power plants with a silhouette familiar to the eye, expensive and time-consuming to build, but mini-nuclear power plants. The race for the right to be the first in this promising new market has already begun, and Russia is taking an active part in it.
First, it is necessary to indicate what exactly is the superiority of mini-nuclear power plants over conventional ones. The main paradox of traditional nuclear power plants is that the electricity they generate is the cheapest of all, but only a very few countries can take advantage of this advantage due to the extreme high cost of the power plant. It takes a long time to build it, it is expensive, the spent nuclear fuel must be disposed of, it requires constant maintenance with the involvement of exclusively highly qualified specialists. Only a few countries in the world, including ours, have the relevant competencies to build nuclear power plants, and very few states can afford this pleasure.
However, the global energy crisis in all its glory has demonstrated the danger of dependence exclusively on renewable sources (RES). Turkey asks Rosatom to build two more new nuclear power plants for it. France announced its intention to resume construction of nuclear power plants. Finland is holding on to its old Soviet-designed nuclear power plant, constantly extending its operating life, while building a modern one at the same time. But how many other countries in the world are in no less need of cheap, environmentally friendly electricity, but the services of Rosatom and its foreign competitors are simply too expensive for them?
A good solution could be the construction of mini-nuclear power plants, "land" or floating.
Technology
mass production of small modular reactors will reduce the cost of power plants for customers and make "green kilowatts" available. For comparison, the cost of a conventional reactor alone is $ 4-5 billion, but a mini-reactor will cost from $ 300 to $ 500 million. Let's see how Russian and foreign nuclear scientists work in this direction.
Rosatom
Our great hope is the RITM-200 pressurized water reactor, developed at the II Afrikantov OKBM. This power plant was created for use on icebreakers LK-60Ya (project 22220), but can also be used on floating nuclear power plants. The thermal power of this reactor is 175 MW, the power on the shaft of the propulsion system is 30 MW (in the transport version) or 55 MW of electric power (in the power version). The service life is 40 years, the fuel will be reloaded every 7 years. In order to comply with the nonproliferation principle, uranium enrichment is limited to 20%. RHYTHM-200 will open up a lot of new opportunities for Russia.
At first
, mini-nuclear power plants can be built in remote regions of our country where there is a need for electricity, but the construction of a large nuclear power plant is impractical. For example, when developing deposits and processing resources at ore mining and processing enterprises in sparsely populated regions of the Far North, Siberia or the Far East.
Secondly
, Rosatom will receive an excellent export product. Thus, the market for the sale of nuclear energy can be the countries of Southeast Asia and the entire Pacific region as a whole. As you know, the gas there is very expensive, the coal is "scandalized" by environmentalists. But an adequate alternative could be a floating nuclear power plant, which will connect to the appropriate onshore infrastructure and start supplying cheap electricity to consumers. Seven years later, it will sail on its own to reload spent fuel, and another mini-nuclear power plant can replace it. Since it is dangerous to sell such technologies, Russia will have to own and maintain floating power plants and could become an even larger player in the global electricity market.
However, our competitors are also on the alert.
USA
The American company NuScale Power is working on a mini-nuclear power plant project with modular light water reactors for power supply, district heating, desalination, etc. A nuclear power plant of this type will be able to accommodate up to 12 NuScale Power Modules, each generating up to 60 MW of energy. By the way, in Ukraine they are thinking about switching to American mini-nuclear power plants after the resource of Soviet nuclear power plants is exhausted. This was stated by the head of NNEGC "Energoatom" Petr Kotin:
We are pleased to start cooperation with the American company - the developer of small modular reactors NuScale Power. It is currently the only technology licensed by the world's most reputable US regulatory authority. We are considering the possibility of building SMRs for their use to replace carbon thermal power plants and increase shunting capacities in the United Energy System of Ukraine.
United Kingdom
The United Kingdom is also looking towards mini-nuclear power plants. The island state provides about 20% of its energy balance at the expense of nuclear power plants. However, the problem is that 6 out of 7 reactors operating there will have reached their end of life by 2030.
For this reason, the famous British company Rolls-Royce has taken over the UK SMR consortium, which plans to build at least 16 mini-nuclear power plants in the country with modular reactors with a capacity of 440 MW each. The British also want to mass-produce modular reactors for their own needs and for export. In 10 years, they expect to reach the launch level of 2 mini-nuclear power plants per year.
Today our country is one of the recognized world leaders in nuclear energy. The implementation of the mini-NPP project will allow it to consolidate and strengthen its position in the market.