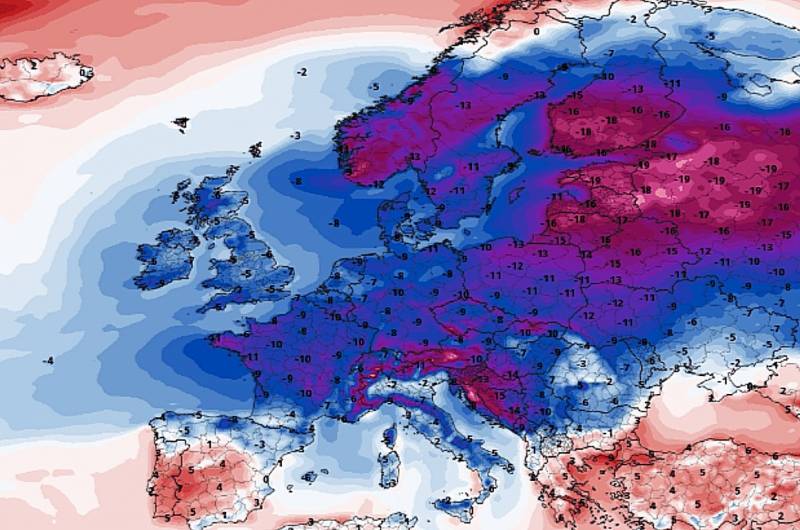 Northern and Eastern Europe, from Scandinavia to the Urals, was hit by extremely cold weather for the beginning of December, according to the Polish portal Onet.
On December 6, in Swedish Lapland, the air temperature dropped to -40,1 ° C in Nikkaluokta and to -40,9 ° C in Naimakka. In Russia, in Ust-Shchugor in the northeast of Komi, -39,7 ° C was recorded, and in Kanevka, in the east of the Kola Peninsula, the thermometer showed -40,2 ° C.
In St. Petersburg, the minimum temperature extremity has been covered since the end of the 19th century. In the northern capital of the Russian Federation, the temperature dropped to -21,0 ° C.
Earlier, the coldest night on December 6 was in 1893 - 128 years ago, the temperature dropped to -20,5 ° С
- writes the edition.
This low temperature is associated with a relatively stable high pressure zone that stretches from Norway to Russia. It actively draws in cold air from the Arctic. Every day the frosts get stronger and spread to other European countries. -30 ° C to -33 ° C has been recorded in Kuusamo and Rovaniemi in Finland.
The "frosty tsunami", according to forecasts of meteorologists, will spread further. Until Thursday, freezing temperatures will be in the Baltics and in Moscow, where during the day it will be in the region of -10 ° С, and at night the thermometer will drop to -20 ° С. Severe frosts will also hit Poland. It will be especially cold in Podlasie, a historical-geographical region on the Belarusian-Polish border, where temperatures will drop below -15 ° C.
Against this background, the situation with the raging natural gas shortage in Europe will only get worse. According to Gazprom, by the beginning of December, European underground storage facilities were empty by a quarter. At the same time, Europe approached the heating season with a smaller energy reserve than usual.
As of December 4, about a quarter (23,4%) of the volume of gas injected this year has already been withdrawn from underground gas storage facilities in Europe
- said in the message of the Russian energy concern.