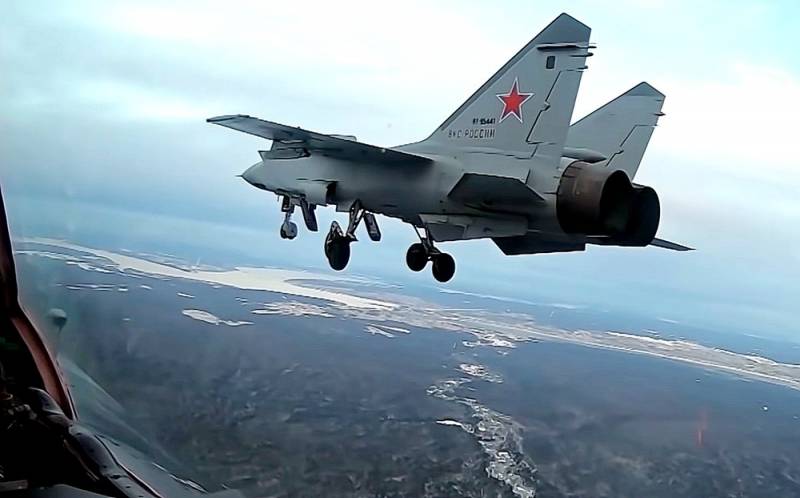 The upgraded MiG-31 fighter is being tested in Russia right now. The combat potential of the updated machine, which will now stand up to protect our Arctic territories, has increased significantly, which cannot but worry our "Western partners".
The point is that with the active development of the Russian Arctic, the West is making more and more claims to our territories. What are the provocative NATO exercises in the waters of the Arctic Ocean? Naturally, our military command is forced to take adequate measures to protect the territorial integrity of the state.
In the spring of this year, for the first time in the history of the Russian Navy, two MiG-31s ​​flew over the North Pole with air refueling. Shortly thereafter, the Ministry of Defense announced that a group of long-range interceptor fighters were already on duty in the Arctic.
However, the most unpleasant news for the collective West was the decision of our military leadership to convert the MiG-31 into a fourth generation strike aircraft.
The newest active phased antenna arrays in the modernized version of the fighter have become 30% lighter than the onboard radars of the previous generation. This made it possible to increase both the volume of fuel and the combat load of the updated aircraft.
Now the MiG-31 has become a platform for the creation of the Kinzhal air complex equipped with a hypersonic missile. This high-precision weapon is capable of striking both ground-based stationary targets and moving sea objects. At the same time, today no one except Russia is armed with an air-launched ballistic weapon.
The attack MiG-31K easily rises to an altitude of 25 km, accelerates to 3000 km / h and in a matter of minutes, going beyond the air defense / missile defense of a potential enemy, is capable of launching a "deadly" missile.
There is no effective defense against the Russian "Dagger" in the world today. Therefore, the West will have to forget about its claims to our Arctic for a long time.