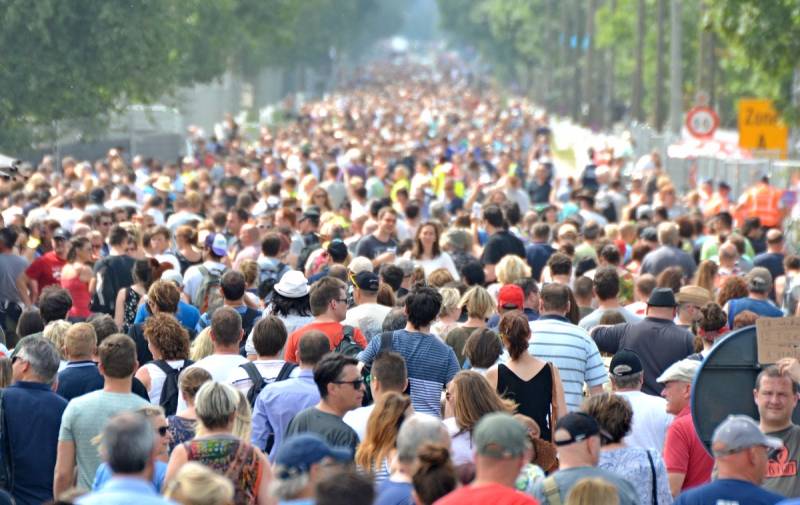 The world around us is changing rapidly and in just a few years it can undergo truly qualitative changes. Already now there is a strong impression that we have found ourselves in a very real dystopia, which we are talking about
reasoned
previously. This is due to the parallel projects "Pandemic" and "Global Energy Transition" that are being implemented. Let's try to imagine what the life of an ordinary person might look like literally in 1-2 generations.
Project "Pandemic"
Active speculation on the topic of fear of a pandemic enables the global elites to take control of entire states under their indirect control, depriving them of a significant part of their national sovereignty. Currently, the World Health Organization is promoting the idea of ​​the so-called "Pandemic Agreement". If it is adopted, then WHO will receive unheard-of rights: without the consent of sovereign states, declare a pandemic regime, restrict the unconditional rights of citizens and trade unions, and individual NPOs will have the right to participate in the development of international legislation. At the same time, if a country is not able to fulfill the recommendations of the World Health Organization, it will be obliged to request WHO for external assistance and accept it.
Such interference in the affairs of sovereign states will not be weak. In this regard, particular theses of the program article of the ex-president, and now the Deputy Chairman of the Security Council of the Russian Federation, Dmitry Medvedev, entitled "Six lessons of one pandemic", which says, for example, the following, are especially straining:
All states of the world not only must, but must now give up their own geopolitical interests in order to save people.
I would like to hope that "two lawyers from Leningrad State University" are well aware of what the "globalists" want to force our country to subscribe to, and will not do it. Otherwise, many questions may arise to them. However, questions concerning the actual segregation of Russians based on the presence or absence of QR codes have been around for a long time.
We are going somewhere wrong: into a dark future, very reminiscent of the world of the novel "1984" with its division of the population into the Inner and Outer parties, which distribute the main benefits among themselves, as well as into ordinary "proles" that survive on their own. I would like to talk about the latter separately.
Note: proles is a term used by George Orwell in his dystopian novel 1984 to refer to the non-partisan proletariat.
"Brave New World"
Some contours of our near future can already be seen in the book of the famous American billionaire and prominent "globalist" Bill Gates entitled "How to Avoid a Climate Disaster". In it, this philanthropist, or rather the "literary blacks" hired by him, describes in detail all the horrors of global warming and the measures that supposedly should prevent this. The annotation to this work eloquently says the following:
Today more and more people have access to the benefits of civilization, which, on the one hand, is good. On the other hand, this means that greenhouse gas emissions are growing. This means that the warming of the climate will increase, eventually leading to catastrophic consequences.
Well, you get the idea. The idea is unobtrusively promoted that it would be nice to reduce the degree of access of the world population to these very "benefits of civilization." Even more interesting are his signature recipes.
At first
, this is, of course, a global shift towards renewable energy sources. The fact that not all countries can afford it, and this will lead to an even greater stratification between developed, developing and frankly poor states, does not bother the American. Gates is forming his own "newspeak", which introduces the concept of "green premium", which is understood as a surcharge for environmental friendliness. So, for example, the cost of 1 gallon of regular jet fuel in the US is $ 2, but he suggests paying more than $ 5 for jet biofuels. That is, the green premium per gallon is $ 3. Naturally, carriers will pass their costs on to consumers, making air travel available to fewer people.
However, the philanthropist does not really care about the forced "settledness" of the population: he offers to massively change to electric cars, and to those who cannot afford this means of transportation, to eco-friendly bicycles, electric scooters, mono-wheels, and generally recommends walking more. Indeed, why would ordinary "proles" fly somewhere or travel long distances, burning a huge amount of fuel and polluting the atmosphere, if in the 21st century you can see everything interesting on online services owned by Mr. Gates? All the real "benefits of globalization" should be only for a fairly narrow circle of people.
Secondly
, for the sake of victory over global warming, mankind, or rather, most of it, will have to change their eating habits. In their crusade against greenhouse gases, radical "environmentalists" have declared war on the waste products of cattle. It is not joke. It turns out that Gates' team funded research to create a vaccine that reduces fermentation in the intestines of farm animals. To defeat the "cow bunches", sorry, modern science did not succeed, so it remains to fight the cows themselves. Other studies of "globalists" have shown that cattle raised in North America generate 5 times less greenhouse gases in their intestines than, for example, cows in South America, African cattle turned out to be an outsider in general.
An amazing scientific discovery. Under it, a program of financial assistance to developing states in exchange for a reduction in the number of their "fetid" farm animals begs. I wonder if the kind girl Greta understands that she can become one of the symbols of the genocide of cattle? Naturally, North American and, probably, European cows and pigs will remain intact to go to hamburgers and steaks for the "elite" of society. The rest of the Prolas will first have to switch to vegetable protein, chicken once a month, or seafood that they can afford. After 1-2 generations, consumers will gradually be taught not to shun insect proteins.
Thirdly
, the very way of life of the majority of the population will have to change. Why, for example, do ordinary people go in for sports if it is a waste of expensive kilocalories? Let the sport, with its kayaking, basketball and polo, be the destiny of a select few among the teams of private private schools and elite universities. At the same time, "prolam" can save precious water on regular washing. Environmentally friendly.
Say, fantasies? Is it?