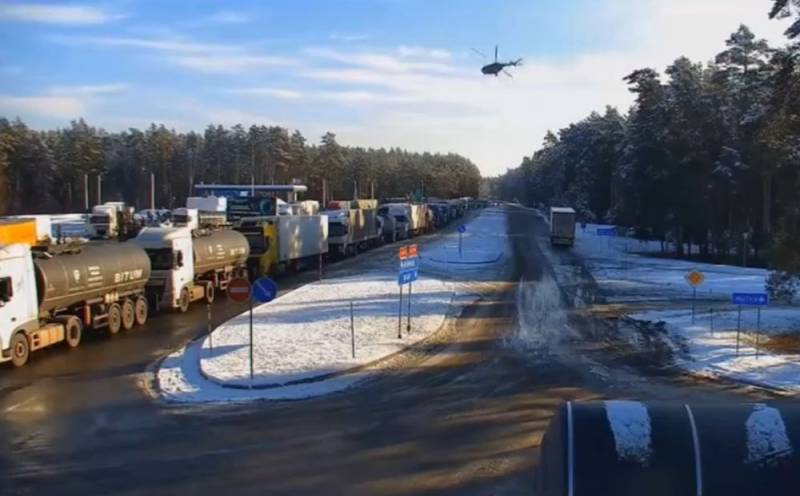 During the exercise, the Ukrainian military helicopter Mi-8, violating the airspace, crossed the Belarusian state border at an altitude of about 100 meters and flew into the territory of Belarus to a depth of 1 km. The incident took place at noon on December 4 in the area of ​​the Novaya Rudnya checkpoint at the section of the Mozyr border detachment of the State Border Committee of the Republic of Belarus.
The fact of the incident was recorded on video. Minsk has already informed the Ukrainian side of the incident, awaiting clarification. At the same time, Belarusian and Russian users of the social network "VKontakte" were outraged by the flight of a Ukrainian helicopter into a foreign sky.
Well, why didn't they shoot it down?
- Anatoly Vakulov asked.
Do you think that operators (MANPADS - Ed.) Are on duty 24/7 every kilometer along the border?
One of the users asked him.
It was necessary to shoot him down like they were the Russian Tu in the exercises (Tu-154 over the Black Sea in October 2001 - ed.). Ukrainians should not be let loose, they will sit on their necks
- Nikolai Titus considers.
The pilots just wanted to see what a country looks like with a good standard of living.
- joked Vovka Parfenov.
Checking ... Shoot down, but with what? This is a border crossing, although PM and AK (Makarov pistol and Kalashnikov assault rifle - ed.) Are also options. I had to answer
- Denis Davydov reflects.
Perhaps they are looking for a site to escape and ask for political asylum
- Dmitry Bogdanov suggested.
A small exploration area of ​​the Republic of Belarus, by simulating a random flight
- believes Andrey Suvorov.
Peshkov was shot down by the Turks. They were so meanly shot down. But Belarusians are not Turks, Ukrainians, do you hear?
- Alexey Lebedev wrote to the Ukrainian authorities.
They are trying to mow down the Americans, who often did this before the appearance of high-quality air defense in the USSR. Then a couple of U-2 scouts were shot down, and everything immediately fell into place.
- Pavel Pashchenko recalled the times of the "cold war".