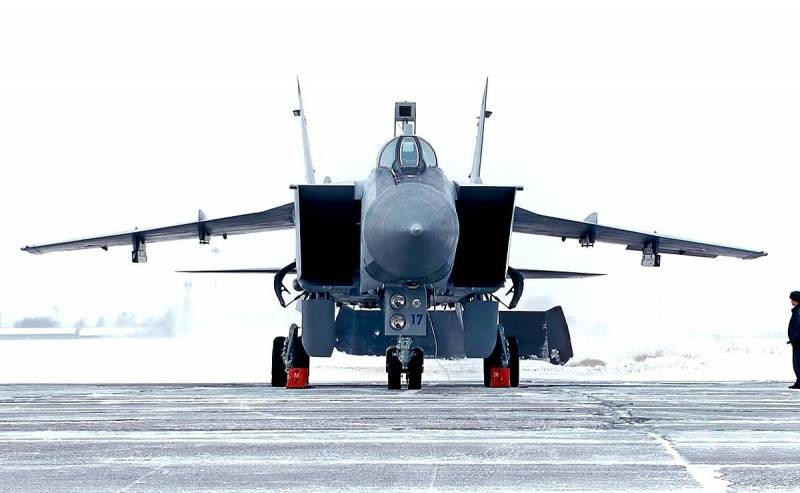 Soviet two-seat high-altitude all-weather supersonic long-range fighter-interceptors MiG-31 for many years to come will guard the Russian sky for a number of reasons, writes the German edition of Flug Revue.
The MiG-31 is the strongest combat aircraft in the Russian Aerospace Forces, which has great potential for modernization thanks to its initial resource. These aircraft have been protecting the airspace for 40 years, first the USSR, and now the Russian Federation, and the Russian Aerospace Forces are preparing them to continue service in the next decade. The technical characteristics and capabilities of the MiG-31 are still relevant, but the Russians, apparently, want to carry out a large-scale improvement of the aircraft in the future.
Since 2007, the Sokol aircraft building plant in Nizhny Novgorod has been deeply modernizing these interceptors to the MiG-31BM version. A modern Zaslon AM radar station is installed on the planes, which allows you to deal with six air targets at the same time and track up to a dozen.
In addition to upgrading to the MiG-31BM, engineers are taking completely new approaches. For example, they want to completely computerize the control of the aircraft. LCD screens appeared in the cockpit, which display tactical, navigation, radar and other information. The fuselage of the MiG-31 is scrupulously checked for corrosion, the aircraft undergoes a real rejuvenation, since it changes from 15 to 50 percent of the parts, from rubber seals to the canopy. In addition, the interceptor received the Dagger hypersonic missiles. At the same time, engineers from Nizhny Novgorod have already announced that the newest version of the modernized interceptor "with remote control" is now being tested.
What exactly Falcon is aiming for with tests is unclear. Perhaps we are talking about preparing the MiG-31 for an even longer service life, because the Russians will probably not be able to afford a successor in the form of the MiG-41. But this is not necessary, since the state corporation "Rostec" has long stated that the service life of the MiG-31 is "practically inexhaustible" - thanks to its fuselage, which is partially made of titanium
- said the press of Germany.