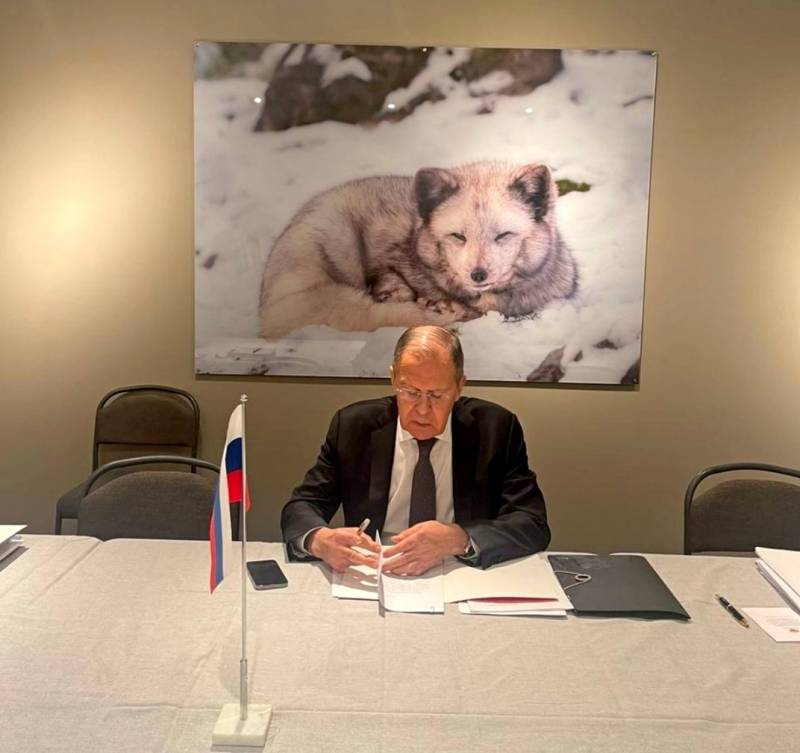 On Thursday December 2, Russian Foreign Minister Sergei Lavrov held several important meetings in Stockholm with his counterparts from Turkey, Austria, the United States and Great Britain. At the same time, the attention of eyewitnesses was attracted by an interesting portrait behind the minister.
According to the official representative of the Russian Foreign Ministry, Maria Zakharova, a large portrait of a polar fox hung on the wall behind Sergei Lavrov, who was working with documents. Zakharova posted the corresponding photo on her social networks, providing it with an inscription that two people were waiting in the meeting room: Lavrov and a polar fox.
Russians were amused by the image of the minister with a fluffy fat animal in the background.
This is a subtle hint to partners ... The message is strong: you Arctic fox!
- joked one of the commentators.
If this is not "photoshop", then it has gone too far ...
Said another.
This message will be understood only by Russian speakers. Therefore, it is not entirely clear in which direction this trolling is.
- noticed the third.
Was the Arctic fox specially hanged from the Russian side?
- another participant in the discussion wrote with a mockery.
They love our Easter eggs. Putin received Erdogan in Moscow against the background of the watch "Crossing the Balkans"
- recalled one of the episodes by the commentator (the watch was
depicted
feat of Russian soldiers who defeated the Turks in Bulgaria in 1877-1878).
Meanwhile, on that day, Lavrov, in particular, met with US Secretary of State Anthony Blinken. The main topics of the talks: the situation in Ukraine, as well as bilateral relations between Russia and the United States. According to the BBC, the parties exchanged very tough statements against each other. Washington accuses Moscow of concentrating troops near the Ukrainian border, while Russia believes that the United States is inciting Ukraine to resolve the situation in Donbas by force.