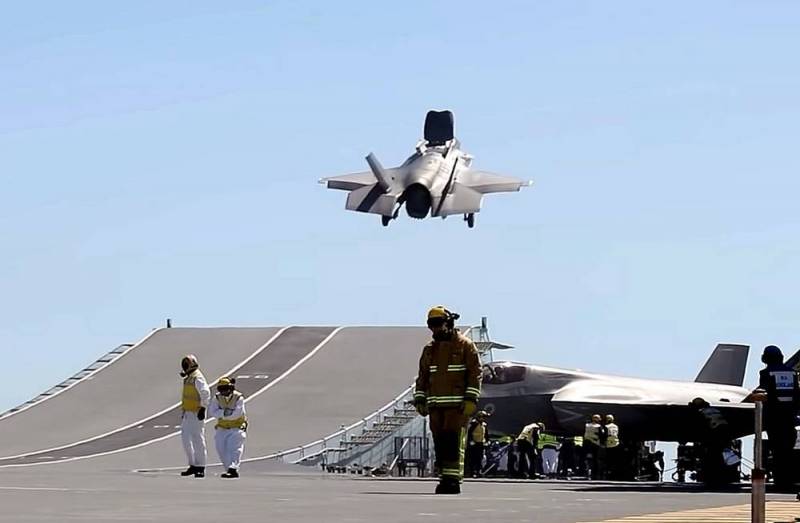 In the West, they are actively talking about the fact that Moscow can raise from the bottom of the Mediterranean Sea the F-35B that has ended up there, which has suffered
crash
in mid-November, having fallen into the water on takeoff from the Royal Navy aircraft carrier HMS Queen Elizabeth, and ferret out its secrets. At the same time, London and Washington are in no hurry to raise their "super-invisible" from the depths of the sea.
Americans and British
hope
that the wreckage of the F-35B could be lifted before the Russian deep-sea vehicles reached them. But the military refuses to disclose any information on this matter, writes The National Interest from the United States.
We are currently working on a solution to this problem.
- said Brigadier General of the United States Marine Corps Simon Doran (Simon Doran).
At the same time, aviation analyst Miguel Mirandra believes that Moscow will not find out anything new for itself, since it already has similar
Technology
.
Did the F-35B crash? Russians already know what he is capable of
- Miranda is sure.
According to the American political scientist from Moscow Andrey Korybko, now there are no signs that the submarines of the IMF of the Russian Federation "rush to the grave" of the F-35B.
However, aviation expert Aaron Outram recalled that "the Russians have already tried to steal the secrets" of the F-14 in the past. The Soviet Union reached the aforementioned American fighter that crashed from the deck of the US Navy aircraft carrier John F. Kennedy (CV-67) in September 1976 near the Orkney Islands, an archipelago northeast of Scotland.
At first, the West thought that the USSR could not get to the plane. But the US Navy sent their nuclear research submarine NR-1 and found out that the "Soviet researchers" had already been there.
The NR-1 crew found that the Soviets really did a good job there: the fuselage was badly broken and entangled in fishing nets, which, in principle, should not be there.
- summed up Outram.