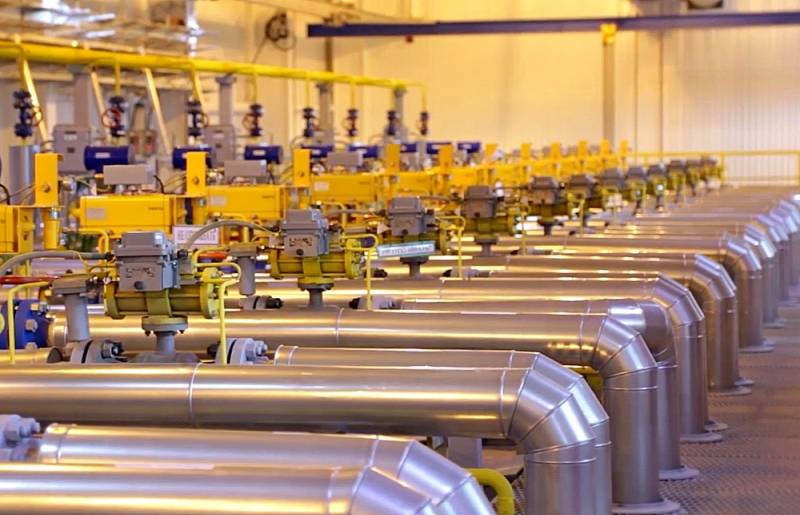 PJSC Gazprom continues to supply gas bypassing Poland. According to the GSA Platform, as of December 1, the Russian raw materials giant had booked only 1/3 of the proposed capacity of the Yamal-Europe pipeline section, which runs through Polish soil.
The Poles have put up at an auction the ability to pump 89,1 million cubic meters. m. per day, but the Russians took only the volume of 31,4 million cubic meters. m. per day, as in the previous month. Thus, PJSC Gazprom did not book all the proposed transit capacities through Poland.
In addition, the Russians did not take additional pumping volumes through the Ukrainian gas transportation system. Chief editor of the portal "Geoenergetics.info", an expert on energy issues Boris Martsinkevich commented on the Internet edition
"Journalistic Truth"
, what is the reason for such actions of PJSC Gazprom.
The specialist drew attention to the fact that when discussions are underway about how much and where PJSC Gazprom has booked capacities, many people forget about the existence of other pipelines coming from Russia and supplying "blue fuel", including to the EU countries: "Nord Stream" , Turkish Stream and Blue Stream.
Moreover, Gazprom does not need to book anything for these gas pipelines; it owns and operates them. Problems arise where the Third Energy Package rules are in place
- the expert specified.
In his opinion, PJSC Gazprom will fulfill the wishes of Russian President Vladimir Putin and fill the UGS facilities owned (leased) by the company in Europe. The only question is how quickly it will happen.
I think Gazprom proceeds from the requirements for fulfilling the terms of long-term contracts. They set the pace for the work of all gas pipelines supplying gas to Europe.
- said the expert.
He added that the Polish section of the Yamal-Europe pipeline is not covered by the Third Energy Package, as its owner, EuroPol Gaz, has the status of an independent operator in the EU. But PJSC Gazprom uses this area when there is
economic
meaning, i.e. there is a commercial benefit.
If long-term contracts do not require a lot of filing, then why rape yourself
- pointed out the expert.
He explained that the Polish section of the Yamal-Europe pipeline is needed to supplement the supply of energy raw materials under long-term contracts, i.e. when there is not enough other capacity. The specialist recalled that UGS facilities in Germany and the Netherlands are filled from Nord Stream. At the same time, UGS facilities in Serbia are filled through the Turkish Stream, and in Austria - through the Ukrainian gas transportation system.
Money is paid for any mileage of the transit route, so why waste it? UGS facilities are filled along the shortest route. This is the whole logic of Gazprom
He summed up.