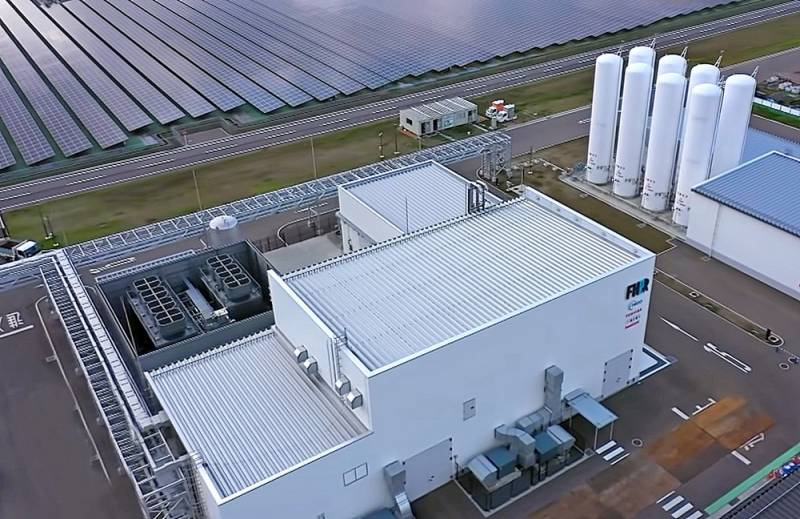 President Vladimir Putin ordered to study the issue of the possibility of supplying hydrogen for export via the existing pipeline system. The officials gave it up, the work began to boil. But will Russia be able to keep the same positions in the hydrogen market of the future as in the gas market today?
The question is complex and highly controversial. Uncertainty is added by the fact that, apart from good intentions, a real transition to the use of hydrogen as the main "green fuel" has not yet taken place, and it is not known whether it will happen at all on the promised scale. Who knows if this whole "environmental" initiative will turn into a global financial "bubble" that will suddenly burst, making some rich and ruining along the way those who did not realize it in time?
However, time will tell. So far, the new global agenda is the elimination of fossil fuels and the transition to renewable energy sources. Russia will not be able not to participate in this, since our
economy
export-oriented, and we are forced to play by the rules that are established for us in the traditional sales markets for Russian products. However, it must be borne in mind that these products are heterogeneous, and therefore they require an individual approach.
Energy export
Today, over a third of federal budget revenues comes from the export of hydrocarbons abroad. The real prospect of losing them made them move actively at the highest echelons of Russian power. Since hydrogen was declared the "fuel of the future", they immediately began to think whether it would be possible to run hydrogen instead of gas through the pipelines already built.
It is forbidden. Hydrogen is an extremely reactive element that in a short time can simply destroy the pipes themselves from the inside, which were not initially adapted for pumping it. There is an option to modernize gas pipelines, for example, Nord Stream and Nord Stream-2, but for this they will first have to be disassembled, the pipeline elements delivered to the plant, where they will be equipped from the inside with special layers that protect against the destructive effects of hydrogen. This is an extremely difficult and costly undertaking, which promises a lot of problems.
At first
, this means the termination of gas supplies here and now, and hence financial receipts to the federal budget.
Secondly
, in fact, we will have a completely new gas pipeline that does not correspond to the original technical specifications. So simply no one will allow him to start working, believe me. You will have to re-obtain the consent of all transit countries, as well as
technical
certification for commercial operation. You can imagine how many new problems will arise, as if Nord Stream 2 is not enough for us.
Obviously, for this reason, the Russian authorities intend to pump not pure hydrogen to Europe, but its mixture with methane. The proportion of hydrogen in this gas mixture should be only 5-10%, which should minimize its aggressive effect on the inner surface of the pipeline. It seems to be reasonable, but there is an important nuance. According to preliminary estimates, this may not be commercially viable.
This fact is supported by the fact that European consumers do not need any hydrogen, namely "green", at worst - "blue". That is, it must be produced from water by the pyrolysis method, while renewable energy sources must be used, which makes it possible to classify the fuel as "green". In other words, first you need to invest heavily in renewable energy sources, for example, build huge wind farms or tidal power plants, generate kilowatts, carry out pyrolysis, get "green" hydrogen, then mix it with methane in a ratio of 5-10%, pump it through an underwater pipeline to and finally, to sell to European buyers who will build a Brave New World there. The commercial effectiveness of such a scheme raises well-grounded doubts. Konstantin Romanov, head of Gazprom Hydrogen, confirmed not so long ago:
Optimal for hydrogen production - closer to a large consumer - it is easier and less costly to transport natural gas.
Currently, Gazprom is negotiating with the authorities of the federal state of Germany Mecklenburg-Vorpommern on the construction of a blue hydrogen plant near the exit to the FRG of Russian gas pipelines. "Blue" differs from "green" in that it is produced not from water, but from natural gas by capturing carbon dioxide.
This, in fact, is the real format of Russia's participation in the "hydrogen revolution": the supply of raw materials to Europe in the form of gas, where hydrogen will be made from it locally. However, there is another option with the liquefaction of hydrogen, "green" or "blue", produced in Russia, and sending it for export by sea. It is possible that the newest gas processing complex, which is currently being built in Ust-Luga, will be used for this.
Hydrogen for domestic consumption
Do not forget that our country does not live by the export of energy resources alone. In addition, there are products of metallurgy, chemical industry and other industries, where energy transition will also have to be carried out. Why do you have to? Because if this is not done, then an increased "carbon tax" will have to be paid for the right to access the European, Chinese or American markets. There are options here as well.
For example, you can invest in renewable energy sources (wind farms, tidal power plants, etc.) and supply industrial enterprises with "green kilowatts" directly in order to minimize the "carbon footprint". It is also possible to use renewable energy sources for the production of "green" hydrogen in our country, which will go not only for export, but also for the own needs of the Russian energy sector, including for industry.