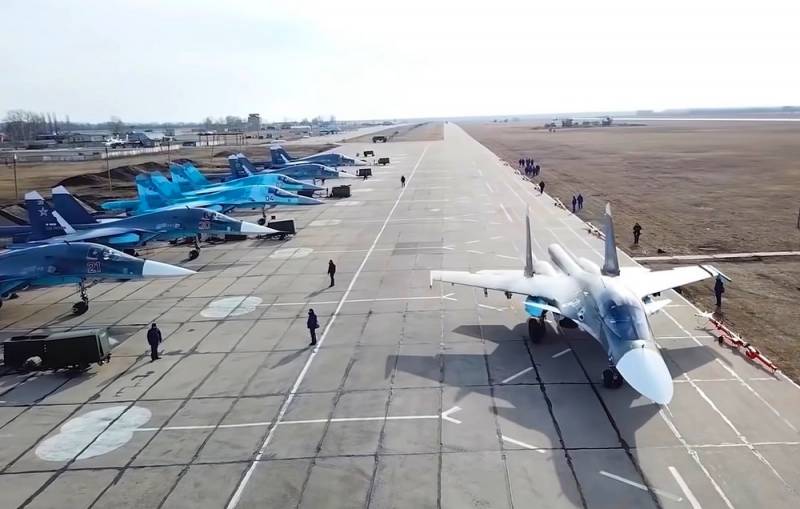 About 100 thousand Russian troops and many weapons systems are "concentrated" near the Ukrainian border. In the coming months, Russian President Vladimir Putin may order these troops to "invade" Ukraine, but Kiev's aging and depleted air force will be practically powerless to stop them, writes the American magazine Forbes.
The Russians can safely mobilize hundreds of modern warplanes to "attack" Ukraine. At the same time, Ukrainian aviation, on the contrary, may face difficulties in deploying only a few dozen combat aircraft of still Soviet production.
In the case of the most dangerous scenario of unleashing an open armed aggression against Ukraine, the Russian Federation may create target aviation groups with a total number of up to 500 aircraft
- reported in 2020 Kiev in the Air Force Vision 2035 program.
To counter this air armada, the Ukrainians can theoretically collect no more than 125 units of flight
equipment
from the legacy of the USSR. These are, first of all, Su-24 bombers, Su-25 attack aircraft and MiG-29 and Su-27 fighters, most of which were already ten years old in 1991. For 30 years, Kiev has not acquired a single new manned combat aircraft.
We stopped investing in our future and created the prerequisites for the emergence of a critical situation - the need for massive and almost simultaneous rearmament of the Air Force with modern models of military equipment, which the domestic industry has not yet created and will not be able to create in the required time frame. This requires significant financial investments to acquire these weapons abroad.
- stated in the strategic document of Kiev.
The United States and other NATO countries have provided Ukraine with billions of dollars in military aid since Russia "invaded" Crimea and backed "separatists" in Donbas. But this aid did not include combat aircraft or air defense systems.
Kiev expects to receive 2023-6 modern fighters by 12 in order to begin the process of replacing old aircraft. But for this you need to sign a contract in 2022, but the tender has not yet been announced, and the money has not been allocated for this. Therefore, in the event of a war, the Ukrainian Air Force will engage in combat with the aircraft they have, assuming that they generally manage to get off the ground when the Russian air armada rushes over the Ukrainian expanses in the first hours of the conflict.