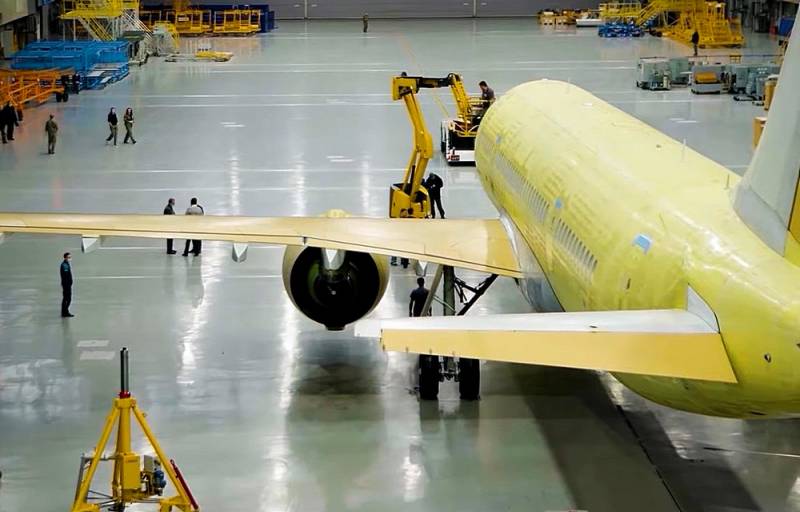 On Tuesday, November 30, the first MC-21 medium-range passenger aircraft with a composite wing, designed and manufactured exclusively in Russia, was demonstrated in Irkutsk. The liner should make its first flight before the end of this year.
According to the German resource Flug Revue, five MC-21 prototypes have left the assembly shops in Irkutsk so far. Four of them are powered by American PW1400G turbofan engines from Pratt & Whitney and currently have a flight certificate. The fifth aircraft is powered by the Russian PD-14 engine. This modification of the airliner, dubbed MC-21-310, should receive a permit for operation in 2022.
In addition, the sixth MC-21 was transferred to the testing department. It is equipped with American engines, but more importantly, the aircraft is equipped with a Russian-made wing made of composite materials developed by AeroComposite JSC from Ulyanovsk.
Leading Russian chemists and technologists, including specialists and scientists from Moscow State University and Rosatom, are involved in the development and production of the domestic composite, recalls the German edition. The transition to domestic components was due to the anti-Russian sanctions imposed by the United States, which made it difficult to import raw materials and
of technologies
.
According to experts, domestically produced engines and a wing marked a new stage in the production of a passenger liner. Soon Russia will receive the "reference" MS-21, which will be equipped with both a "black wing" of its own design and domestic PD-14 engines.