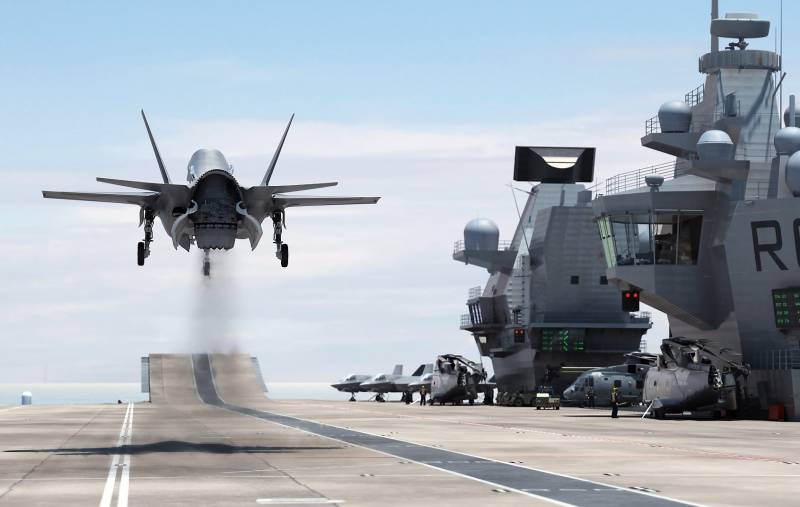 A video of the moment of the crash of the British F-35B fighter-bomber during takeoff from the deck of the aircraft carrier HMS Queen Elizabeth of the British Navy has appeared on the Web. Interesting details shed light on what happened on November 17 in international (neutral) waters in the eastern Mediterranean off the coast of Egypt.
The published footage shows that there was no external influence on the plane. The disaster happened either because of
technical
malfunctions of a combat aircraft, or there was a human factor (errors in piloting or preparing an aircraft for takeoff, possibly a superposition of two options together). The most likely cause could be an unremoved plug in the aircraft engine.
One gets the feeling that the pilot realized that something abnormal was happening and tried to stop the takeoff. But it was already too late - the ship's deck was over, and the pilot pulled the catapult lever, realizing the inevitability of a disaster. The plane crashed into the water.
The footage shows that an object is falling onto the deck of the ship. This is one of the details of the plane, although some experts have suggested that this is a pilot, and an accident happened to him. But everything is in order with the pilot, as the British military previously stated. The catapult worked normally, the pilot splashed down by parachute and was taken aboard the ship.
Now the British military will try to lift the plane from the seabed. He will never fly again. It's just that the British do not want the plane to be raised by any other country and the secrets of the F-35 were revealed.
The F-35B is a short take-off and vertical landing (STOVL) fighter-bomber. These aircraft can also be used on helicopter carriers and universal amphibious assault ships with a flight deck. Currently, after the incident, the HMS Queen Elizabeth air wing consists of 7 British F-35Bs and 10 similar aircraft from the United States Marine Corps.