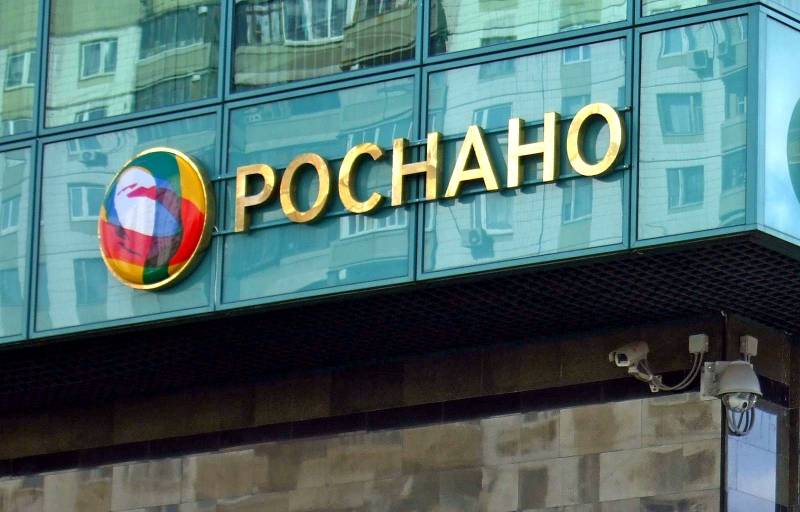 A few days ago, the general public was agitated by the news that the former "office" of our most famous "effective manager" Anatoly Chubais, the state corporation Rusnano, was on the verge of bankruptcy. The wicked irony is that the brainchild of "Atlas Shrugged" can only save the state from collapse. Can any conclusions be drawn from what happened?
Atlas hunched his shoulders
The results of Mr. Chubais's activities as head of Rusnano are quite natural. Before that, there was RAO "UES" and its so-called "reform", which was expressed in the splitting into parts of the once unified energy system of our country and the sale of its pieces to foreign companies. And before that there was the notorious privatization of the "nineties", one of the main ideologists of which was Anatoly Borisovich. Then the tidbits of state property, until recently in public ownership of the Soviet people, for a song passed into the private hands of a narrow circle of people who instantly turned into oligarchs, younger brothers of representatives of large Western financial and industrial capital. Once, having opened his heart, Mr. Chubais told without equivocation how and why, together with his "accomplices," he was destroying the industry of the former superpower:
We were not engaged in collecting money, but in the destruction of communism. We knew that every plant sold was a nail in the coffin of communism. Expensive. Cheap. Is free. With a surcharge - that's all question twentieth.
Everything is according to the ideological precepts of the "Atlanteans" from the beloved handbook of a liberal dreamer and outright "saboteur". Another question is why this person, instead of an objective check and audit of his activities with subsequent procedural consequences, is transplanted from the chair of the head of one state corporation to another?
However, after all, the light did not converge on Anatoly Borisovich, right? Let us recall, for example, the so-called "modernization" program put forward by President Medvedev back in 2009. Dmitry Anatolyevich called Russia forward, towards a bright future, where a breakthrough was shining in such industries as space and telecommunications, nuclear energy, energy efficiency and new types of fuel, medical
Technology
and pharmaceuticals, information technology. The word "modernization", so capacious and at the same time so vague, was used everywhere in those years. Then, however, it all came to naught. Apparently, Russia nevertheless "sailed" to the designated target.
And there was also a domestic analogue of Silicon Valley called Skolkovo. Can you immediately recall any real results of the work of this science city, which improved the lives of Russians, would return the budget money invested in them? Something in the information field flashed about corruption cases, high salaries and bonuses for those involved, but the technological breakthrough has not yet worked out, as, incidentally, in Mr. Chubais's Rusnano.
Back in the sharashka?
Somehow, in modern Russia, with its oligarchs and systemic liberals in the government and in leading positions in state corporations, it does not add up to innovations and "nanotechnologies." Either they do not know how and, in principle, they cannot, or they don't want to, but on the contrary, they deliberately scatter financial resources on dubious "projects". It is unacceptable to endure such a thing. Our country has entered a new "Cold War", is under Western sanctions, is forced to solve problems with import substitution, since the systemic liberals deliberately let their industry go to scrap metal. For years we have not been able to perfect jet engines for fighters, we are still not able to produce powerful ship propulsion systems, we do not have our own processors for computers that are adequate in terms of characteristics, we are dependent on the supply of imported machine tools and equipment, etc. Is this a joke or something?
So what to do?
Now, perhaps, some liberals will have enough blow, but in the current conditions, the re-creation of the so-called "sharashki", or rather, Special technical bureaus, suggests itself. In Russian history, this topic is strongly mythologized, especially through the efforts of Mr. Solzhenitsyn:
All these sharashki have been led since 1930, as they began to drive the engineers with shoals. In the wild, it is impossible to gather in one design group two great engineers or two great scientists: they begin to fight for a name, for glory, for the Stalin Prize, one of the other will surely survive. Therefore, all design bureaus at large are a pale circle around one bright head. And on the sharashka? Neither fame nor money threatens anyone ... This is how much was created in our science! And this is the main idea of ​​sharashkas.
From this quote, the only undoubted truth is that OTBs were really effective and gave a lot to domestic science. Incidentally, it was not the "mustachioed ghoul" who drove the engineers into the "sharashki", but their own colleagues, who wrote denunciations against them in order to take a good position or settle old scores. A sort of relapse into the Civil War. By the way, not all of those who got into OTB were innocent sheep. Even the famous aircraft designer Tupolev, with all due respect to him, ended up in the "sharaga" for a reason.
As you know, he was sent to the United States to buy licenses for the production of American aircraft in the USSR. Upon his return, it turned out that he flew to the United States with his wife, at the same time brought home a lot of valuable junk, like other members of his delegation, who combined business with pleasure. And the drawings acquired by Tupolev under license were all in feet and inches, while in the USSR the metric system was, therefore, an additional huge technical work had to be done to translate them. As a result, of the three planned aircraft, only one was produced under license, and the state suffered significant financial damage.
Of course, domestic "effective managers" will not even understand what exactly the problem was, for them this is sheer trifles. Just think, they spent budget money ineffectively, not their own. But under Comrade Stalin, the approach was somewhat different. By the way, Tupolev was by no means shot, but sent to the Special Technical Bureau, where he brought real benefit. For example, in the "prison sharashki", as domestic liberals call them, the following were created: the Tu-2 front-line bomber, the Pe-2 dive bomber, the DVB-102 high-altitude bomber, the I-5 fighter, the Felix Dzerzhinsky cargo steam locomotive, auxiliary aviation liquid-propellant engines RD-1, RD-1HZ, RD-2 and RD-3, a regimental 75-mm cannon of the 1943 model, a universal artillery system of 152 mm, and also much more that came in handy during the Great Patriotic War. At least in some ways Alexander Isaevich did not lie.
Naturally, no one in the realities of 2021 proposes to write denunciations and put scientists in "prison design bureaus". However, if the current top managers, academics, engineers and scientists receive decent money from the state, then the state has the right to demand some result from them. If there is no result in a reasonable time frame, then it may be advisable to bring the responsible persons together, providing them with everything they need to work and at the same time isolating them so that they are not distracted by any nonsense until they give this result. You look, and "Product 30" will quickly "finish". Instead of a budget. And only after that, for heroic work for the good of the Motherland, they will receive bonuses, bonuses, certificates of honor, etc. due to them.