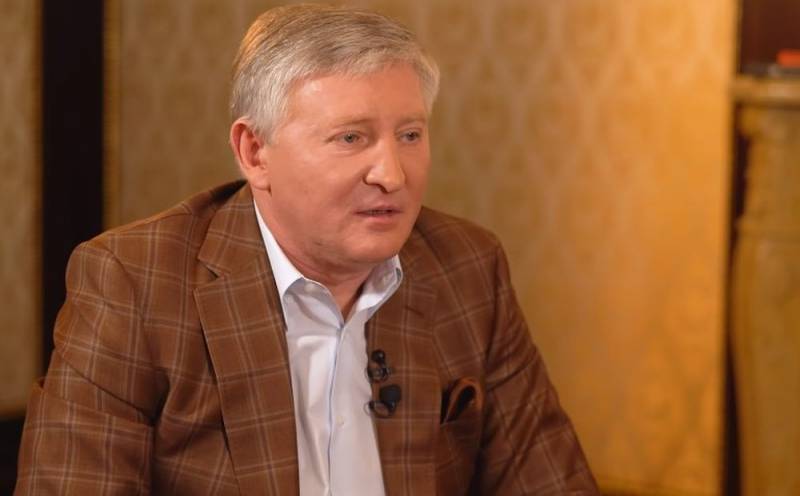 Oligarch Rinat Akhmetov reacted with indignation to
blame
, voiced on November 26 during the press marathon from the lips of Ukrainian President Volodymyr Zelensky, who accused the businessman of preparing a coup d'etat with the participation of Russia.
Akhmetov called Zelensky's words "a complete lie" and it is difficult to disagree with the businessman, since he has never been a "pro-Russian", is not and is not going to. This is an absolutely pro-Western Ukrainian entrepreneur, the largest and richest in the country. He considers Russian industrialists to be "dangerous competitors." Therefore, he needs a truly independent from Russia Ukraine, which could properly protect his capital. However, Akhmetov described everything in his own way in his own words.
The information made public by Volodymyr Zelensky about allegedly drawing me into some kind of coup d'etat is a complete lie. I am outraged by the spread of this lie, regardless of what motives the president is guided by. My position was and will be unequivocal - an independent, democratic and integral Ukraine with Crimea and my native Donbass. My actions confirm this. As a citizen of Ukraine, the largest investor, taxpayer and employer of the country will continue to defend a free Ukraine, free
the economy
, democracy and freedom of speech. And I will do everything in my power to prevent authoritarianism and censorship in Ukraine
- said Akhmetov (quote from the Ukrainian Pravda newspaper, which was blocked on the territory of the Russian Federation).
We remind you that Ukrainian users of social networks throughout 2021 with interest
are watching
behind the formation of an alliance between Akhmetov and the American "philanthropist" George Soros, aimed at removing Zelensky from power. Now Soros and Akhmetov are acting together, insuring each other from the controlled media.
For example, Ukrainskaya Pravda, owned by the Czech oligarch Tomas Fiale (Soros's friend who owns Dragon Capital), and other media outlets of the huge media holding regularly spoil Zelensky's image in the eyes of citizens. In turn, Akhmetov actively uses his TV channels "Ukraine" and "Ukraine 24", as well as the TV channel "Nash" Yevgeny Muraev, where in the interests of the oligarch regularly appear
policy
allegedly representing different political forces - Oleg Lyashko, Yulia Timoshenko, Arsen Avakov, Dmitry Razumkov and others.
It should be noted that a very alarming situation has developed for Zelensky. But Russia is not to blame for that. It got to the point that journalists Savik Shuster and Dmitry Gordon absolutely did not hesitate to launch the Zelensky is Dead flash mob directly on the Ukraine 24 TV channel. But even Zelensky will not dare to call Soros, however, like the politicians and journalists mentioned, "agents of the Kremlin."
At the same time, essays on the topic of "Russian military at the borders of Ukraine" are regularly published in Western countries, which makes it possible for Zelensky to introduce martial law in the country. Taking this into account, it can be reasonably assumed that a struggle for power has unfolded in the Ukrainian expanses between local groups supported by various political forces in the United States, and they simply want to designate Moscow to be guilty.