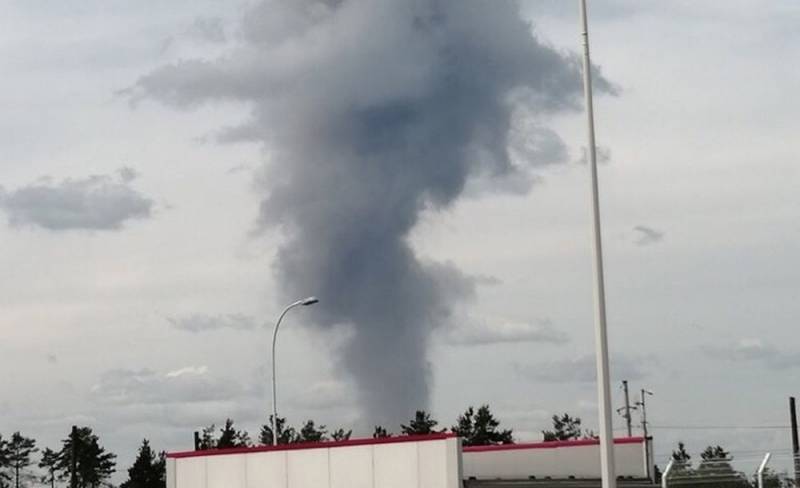 On November 27, at the city-forming enterprise FKP "Plant named after Ya. M. Sverdlov" in Dzerzhinsk (Nizhny Novgorod region), 4 explosions thundered in shop No. 32. According to reports, a fire broke out at the scene of the incident, the area of ​​fire was 900 square meters. m. Two employees were injured, the personnel of this enterprise and the neighboring plant were evacuated. A subdivision of SU # 38 of the Ministry of Emergency Situations is working on site.
According to preliminary information, a fire alarm went off at the plant, then there were several pops. On the territory of the plant, according to the passport, there may be explosives
- reported in the regional EMERCOM of the edition
"Nizhny Novgorod Online"
.
10:35 the building in which the fire occurs is completely destroyed. At 10:45 am, an armored fire tank from 74 PSCh in Nizhny Novgorod arrived at the scene. Fire localization at 11:50 - no explosion threat
- promptly clarified in the group
"Bad News Dzerzhinsk"
in the social network "Vkontakte".
Note that this enterprise is part of the military-industrial complex of Russia and according to one of the versions, ammunition detonation occurred on its territory. FKP "Plant named after Ya. M. Sverdlov" is one of the largest Russian manufacturers of industrial explosives, transfer charges for the mining industry, perforating charges for the oil and gas industry, seismic and geophysical works. In addition, it is the only manufacturer of HMX and RDX in the Russian Federation.
We remind you that on August 31, 2018, an explosion occurred at a defense plant in preparation for the destruction of anti-tank mines. Then 5 people died, and 4 more were injured of varying severity.