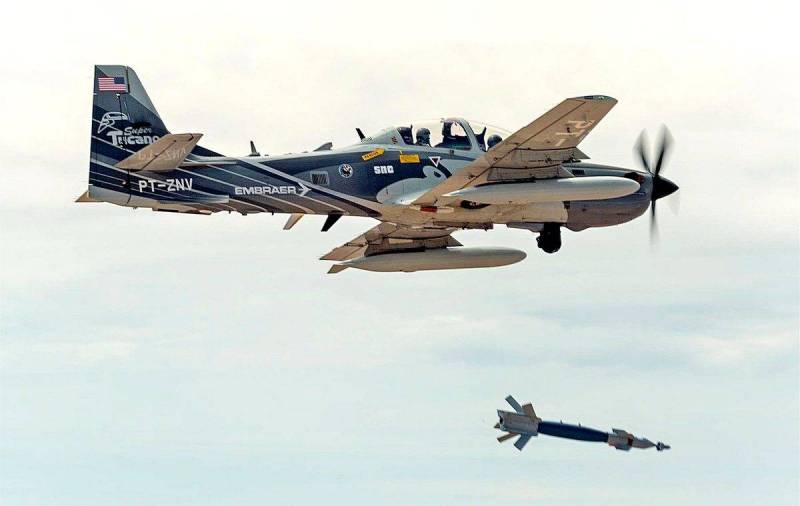 Amid a possible aggravation of the situation between Russia and Ukraine, Washington plans to send weapons to Kiev, which were withdrawn from Afghanistan. The Polish resource Defense24 asks whether such "Afghan souvenirs" will be able to stop the invasion of Russian forces into the territory of Ukraine.
First of all, we are talking about the Mi-17V-5 helicopters. One of these aircraft is currently being repaired at the Ukrainian Aviation Enterprise Motor Sich. Airplanes and helicopters that entered Uzbekistan after the withdrawal of American troops from Afghanistan may also be delivered to Ukraine: Mi-8/17 helicopters and six Embraer EMB 314 Super Tucano light turboprop attack aircraft (pictured).
Much attention is also paid to the supply of Javelin ATGM and Stinger MANPADS to Kiev. "Javelins" are already in service with the Armed Forces of Ukraine, and there is evidence of the use of these complexes in the Donbass. However, officials deny this information. According to Defense24, the Ukrainians could effectively use these missile systems against the Russian T-80 and T-90 tanks.
As for the Stingers, these anti-aircraft missile systems were used in Afghanistan against Soviet troops in the 80s of the last century. In fact, they once turned the tide in favor of the Mujahideen, and the Soviet Union began to suffer heavy losses. Ukraine could use Stingers to destroy low-flying helicopters and aircraft, which would pose a real threat to the aggressor forces.
In general, according to the Poles, the Armed Forces of Ukraine have become much more efficient than seven years ago. The Ukrainian army is better equipped and armed, and its command has reached a new level. Although Kiev will not be able to win in a hypothetical military confrontation with Moscow, the latter, in the event of an attack, risks losing a large number of manpower and
equipment
as well as bear heavy
political
и
economic
costs.