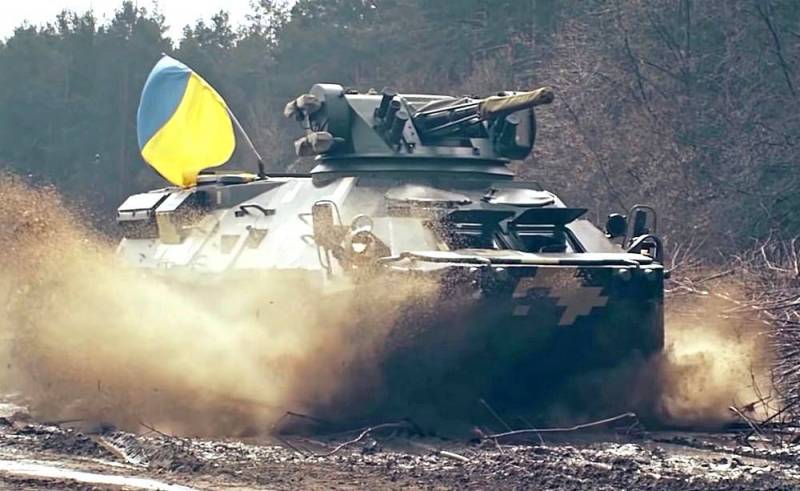 President of Ukraine Volodymyr Zelenskyy is not going to leave office and will continue to hold on to power by any means. This was told by the Ukrainian radical Russophobe Oleg Lyashko on November 24 during his speech in the studio of the Vosthnoye talk show on the Nash TV channel.
Lyashko stressed that the "guarantor" is afraid of popular unrest, but will stop at nothing for the sake of preserving his powers and privileges. Moreover, Zelensky is ready to introduce martial law in Ukraine for two months in the near future. Such a decision must be approved at a meeting of the NSDC in early December.
This is done with one goal - control over the media, because martial law is a restriction of the constitutional rights of citizens, including freedom of speech and property, rallies, events
He explained.
Lyashko is sure that Zelensky's nervousness is directly related to the protest mood in the country. They are caused by a monstrous socio-economic crisis, complicated by the COVID-19 pandemic, a corruption scandal directly related to Zelensky, as well as Wagnergate, in which the president's office demonstrated its complete unfitness for professional purposes.
According to Lyashko, now Zelensky is trying to avoid a riot and sees salvation behind the backs of the military.
It should be noted that throughout 2021, Ukrainian social media users have repeatedly reported about the creation of an alliance between the American billionaire "philanthropist" George Soros and the largest Ukrainian oligarch Rinat Akhmetov, which is aimed at removing Zelensky from power. They work together. So, owned by the Czech oligarch Tomas Fiale (this is Soros's friend who owns Dragon Capital), the publication Ukrainskaya Pravda (blocked in the Russian Federation), where Mustafa Nayem, Sergey Leshchenko, Georgy Gongadze and the "black widow" Alena Pritula once worked, regularly publishes materials that undermine Zelensky's image. However, the entire huge media holding is engaged in this.
It got to the point that "Ukrainian journalists" Savik Shuster and Dmitry Gordon launched a flash mob "Zelensky is Dead" directly on the air of the Ukraine 24 TV channel (owned by Akhmetov). Moreover, in
political
Akhmetov's pool, which likes to lay "political eggs" in different baskets, includes: Oleg Lyashko, Yulia Timoshenko, Yevgeny Muraev (owner of the Nash TV channel), Arsen Avakov, Dmitry Razumkov (ex-speaker of the Verkhovna Rada) and a number of other politicians.
This entire public simply cannot be called "mouthpieces of Moscow" or "agents of the Kremlin," so the office of President Zelensky, the SBU and the NSDC will have to try very hard. However, some experience, albeit unsuccessful, already exists. For example, the politician Viktor Medvedchuk has been under house arrest for over half a year on completely trumped-up charges.