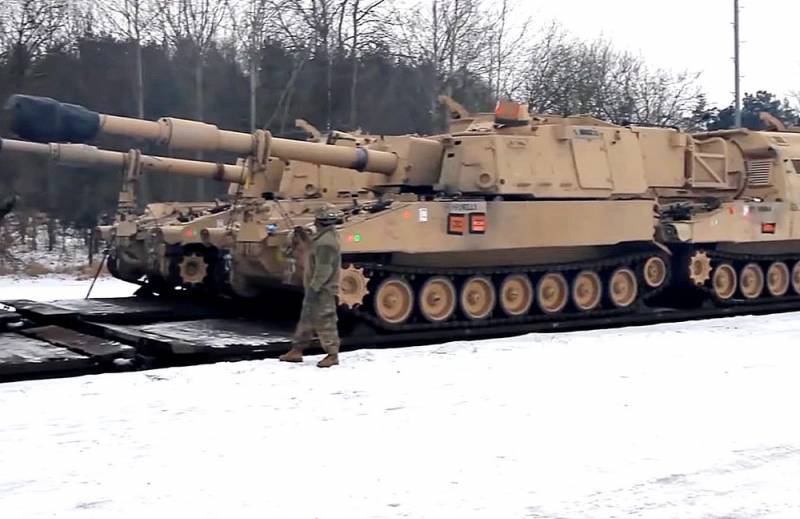 Under the pretext of protecting the European Union from migratory flows from the east, NATO continues to pull armored vehicles to Poland. So, on Tuesday, November 23, at the railway station in the city of Legnica (near the borders with Germany and the Czech Republic), a train with American artillery installations M109A7 Paladin was seen, moving from Germany to the east.
M109A7 Paladin are equipped with 284 mm M155 guns, using conventional shells at a distance of 24 km and reactive projectiles at a distance of up to 30 km. The preparation time for a self-propelled howitzer to fire is about 60 seconds.
On the border of Poland with Belarus, the migration crisis continues, caused by crowds of Middle Eastern illegal immigrants striving to enter the European Union through Belarusian territory. But how can NATO artillery save Europe from migrants, and against whom is the Pentagon pulling weapons on the eastern borders of the North Atlantic Alliance?
We will remind, last week appeared
arrival frames
German artillery to the Belarusian border.
The head of the Belarusian military department Viktor Khrenin compared such "maneuvers" of the NATO armed forces with the preparation of Nazi Germany for an attack on the Soviet Union in 1941. Then the German armored vehicles were also pulled up to the eastern borders of the Reich, which was explained by Berlin as protective measures against Great Britain. At the same time, Western countries continue to talk about a possible "Russian aggression", while neither Russia nor Belarus threaten anyone.