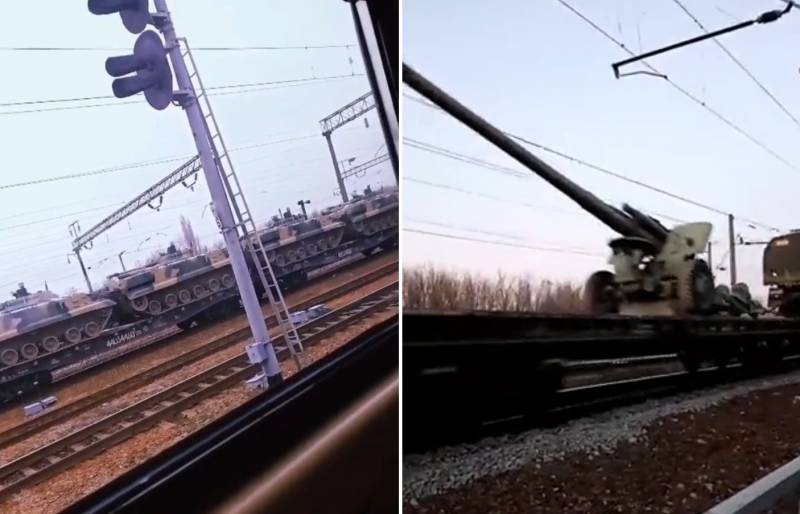 Videos showing the movements of the Russian military are being distributed on social networks
equipment
, which is allegedly actively pulling towards the border with Ukraine. The published footage shows a whole echelon of BMP-3 at the Valuyki station in the Belgorod region, located 27 km from the neighboring state.
According to the telegram channel "Notes of the Okhotnik", with the help of a car search site, it was possible to establish that the infantry fighting vehicles were sent from the Bui station in the Kostroma region from military unit 42713 of the 22nd central base of the tank reserve. Witnesses also report trains with artillery from Chelyabinsk.
This concentration of military equipment is causing concern in Kiev. According to the head of the Main Intelligence Directorate of the Ukrainian military department, Kirill Budanov, Moscow has concentrated about 92 thousand of its soldiers near the Ukrainian border.
On
According to
Budanov, which he spoke about in an interview with the Military Times, the Kremlin could unleash aggression against Ukraine in January or February 2022. The attack, according to the military, will begin with the actions of artillery and aviation in the direction of Odessa and Mariupol. The landing of troops, as well as the offensive of Russian troops from the territory of Belarus, is not ruled out.
According to American intelligence services, Russia
may invade
to Ukraine within a few weeks. Washington believes that the Kremlin is preparing an aggression against the Donbass.