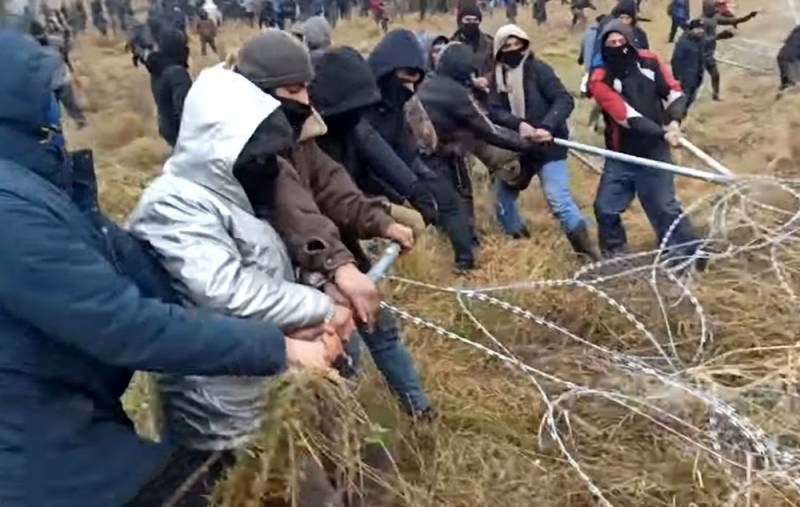 The Belarusian authorities have changed their tactics for managing refugees on the border with Poland. The head of the Ministry of National Defense (MON) of Poland, Mariusz Blaszczak, spoke about this on November 20 on the air of the Polish radio station RMF FM.
According to him, the Belarusian "green men" have introduced a new method of refugees' penetration into Polish territory. Previously, refugees were mostly one large crowd and were in a certain place. They tried in groups of 200 people to overcome the protective lines at the border. However, now their behavior has changed significantly.
Now many small groups of refugees are trying to infiltrate Poland in various places. They simultaneously carry out attempts to illegally cross (break through the border), which indicates their coordination. Over the past day, 195 such illegal actions were recorded.
At the same time, the refugees are behaving aggressively. They throw stones and launch fireworks at border guards, use sticks and use tear gas (the Polish Border Guard has confirmed this information). The minister has no doubts that the actions of the refugees are controlled by the security forces of the Republic of Belarus.
At the same time, persons suspected of assisting illegal immigrants in transporting them to the EU were detained on Polish territory over the course of a day in areas near the border. Detained citizens of Poland, Ukraine, Germany, Azerbaijan and Georgia, who transported more than three dozen illegal immigrants.