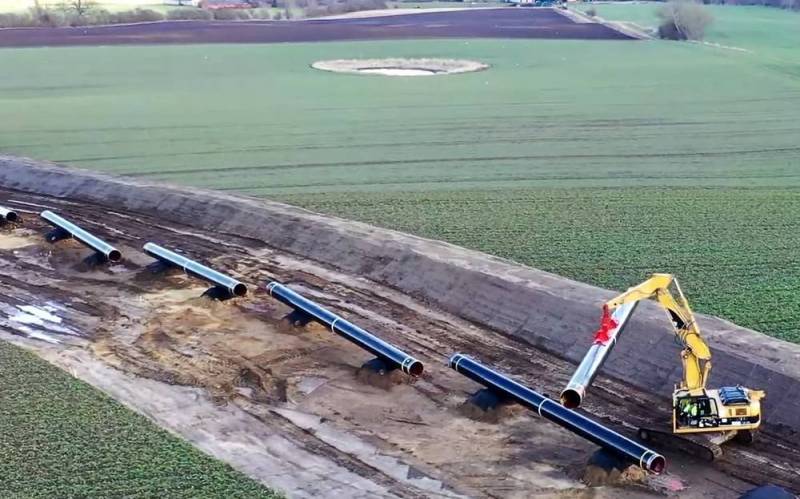 In opposition to the Russian Nord Stream 2 pipeline, Poland is building the Baltic Pipe gas pipeline, which is supposed to connect Norwegian gas fields in the North Sea via Sweden and Denmark with Poland. According to the Ukrainian newspaper LIGA, representatives of the Polish operator Gaz-System announced the completion of the construction of the offshore section of the facility.
In the construction of the underwater part of the pipeline, 3 laying ships and 32 more auxiliary vessels took part. The length of the pipes laid on the seabed is about 275 km. The total investment in the project is 266,8 million euros. The planned capacity of the gas pipeline will be 10 billion cubic meters of "blue fuel" per year.
Gaz-System's press release notes that the new gas pipeline will allow Poland to diversify its gas supplies. The volume of gas through the Baltic Pipe will be comparable to the amount of gaseous fuel coming from the Russian Gazprom, the agreement with which ends in December 2022.
The launch of the project is scheduled for October 1, 2022. In this regard, some experts believe that the Baltic Pipe has a chance to come into operation before the Russian gas pipeline, given the large number of
political
friction and bureaucratic delays that accompany the construction of Nord Stream 2.
Meanwhile, according to the deputy of the German Bundestag from the party "Alternative for Germany" Steffen Kotrets, SP-2 will start operating in April-May 2022. But, as practice shows, the start of operation of the Russian pipeline for some reason may be postponed again.