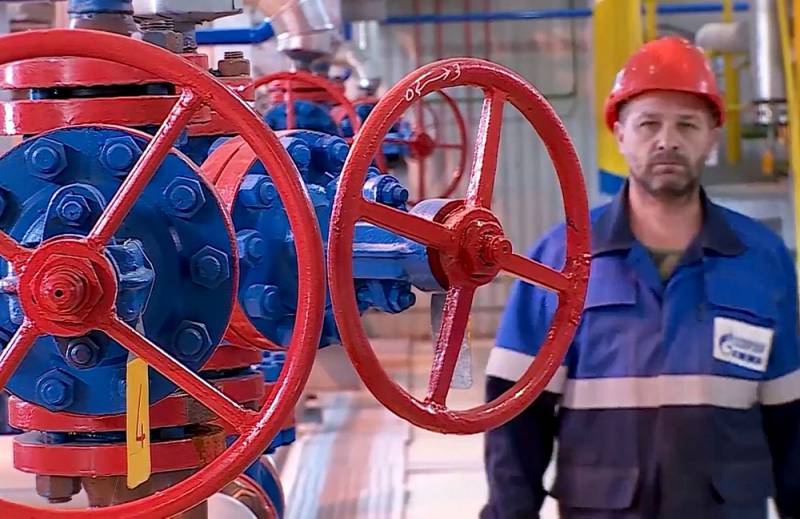 Ukraine is finally plunging into darkness. Everyone who is familiar with the real situation in the energy sector of Independence is expecting the imminent start of rolling blackouts. First, the industry will be put on starvation rations, then the authorities will start saving on their own population. The main reason is the blatant incompetence of the "servants of the people" team, but Russia and now Belarus also had a hand in aggravating the Ukrainian problems. What are Moscow and Minsk trying to achieve?
Ukrainian energy is represented, in addition to newfangled renewable sources (RES), by generating capacities of thermal power plants, hydroelectric power plants, nuclear power plants and pumped storage power plants. Despite this diversification, it suddenly turned out that Nezalezhnaya came up unprepared for the winter of 2021-2022.
The country has four nuclear power plants with a total of 15 power units. The problem lies in the fact that some of them have developed a resource, which has to be extended due to major repairs. Despite this, aged power units need constant maintenance, which requires their shutdown. For this reason, all 15 cannot work at the same time, usually this figure is from 8 to 10 power units. But already now Kiev was forced to use, according to various sources, from 12 to 13, which speaks of an extraordinary situation in the country's energy sector. And this has not even begun the calendar winter, and real frosts have not come!
The situation with TPPs is much worse. Most of the thermal power plants in Nezalezhnaya are controlled by the DTEK company of billionaire Rinat Akhmetov, the rest of the thermal power plants are owned by the state. On the eve of the start of the heating season, coal reserves in Ukraine reached a historic low. This was due to a number of reasons.
At first
, for political reasons, Kiev refused to buy anthracite coal from "separatists" from the DPR and LPR.
Secondly
starting from November 1, 2021, Russia refused to supply its coal to Nezalezhnaya. About 62% of the total import of anthracite coal, which Ukraine has to buy instead of coal from Donbass, accounted for our country. The indefinite refusal to supply automatically left a quarter of Ukrainian thermal power plants without raw materials, at once aggravating the situation. In return, Kiev tried to replace Russian coal with increased purchases from Poland, Kazakhstan, South Africa and the United States. As a miracle, the government of Independence is waiting for five ships loaded with American anthracite, carrying 280 thousand tons of fuel:
Five ships are sailing: four for DTEK and one for the state-owned Centrenergo.
The authorities are also counting on 663 thousand tons of coal from Kazakhstan and 300 thousand tons from Poland. It is emphasized that Russia does not interfere with the transit of Kazakh coal through its territory, but Ukrainian buyers have to compete with the PRC, which itself sweeps away energy resources. Obviously, one-time PR campaigns with purchases in the USA and South Africa will not solve the systemic problem, 90% of the capacities of state-owned thermal power plants are now forced to stand idle. It is not surprising, because in just a week they burn on average about 100 thousand tons of coal. Compare with the announced delivery volumes.
Therefore, Kiev, apparently, will have to switch to active gas flaring. Alas, there are also serious problems with this in Ukraine now. Formally, its UGS facility has accumulated 18 billion cubic meters of gas, but in reality, Naftogaz owns only 4,5 billion cubic meters. Everything else is either buffer gas or owned by other owners. The reserves of "blue fuel" necessary for the passage of the heating season should be at least 9 billion cubic meters, that is, exactly 2 times more.
We can only hope for the supply of electricity from neighboring Belarus, fortunately, Ukraine has not yet managed to jump out of the power system that is unified with us. However, literally yesterday, November 18, Minsk cut off electricity supplies to Kiev. The Ministry of Energy of the Republic of Bashkortostan does not refuse to renew it altogether, but makes a reservation that this is possible only "taking into account the technical capabilities." Coincidence?
It is not surprising that what is happening in the West was considered an "energy war", which Russia and Belarus allegedly unleashed jointly against Ukraine. But what real goals can then be achieved by the Allies? Interest Ask.
Most likely, the first to be cut off from the power supply will be industrial enterprises that still remain in Nezalezhnaya. Will "efficient owners" pay their homeworkers wages? Maybe yes, or maybe they just send them on leave without pay, putting a reduction as an alternative. Then the turn of rolling blackouts in houses will come. Already now, in some places in Ukraine, there have been announcements that electricity may not be available from 20 pm until the morning. Without work and without money, people will be left in dark apartments alone with their dark thoughts. The colder and hungrier the houses, the hotter the situation on the streets can be, when the population begins to block highways in order to draw the attention of the authorities to their problems.
Taking into account the falling rating of "servants of the people", the growth of social
economic
tensions can lead to mass unrest and some kind of political change in Ukraine. It remains only to understand whether the Kremlin is ready to use this opportunity in the interests of Russia or not. Is there a "cunning plan"? Or is it all happening because of what is happening?