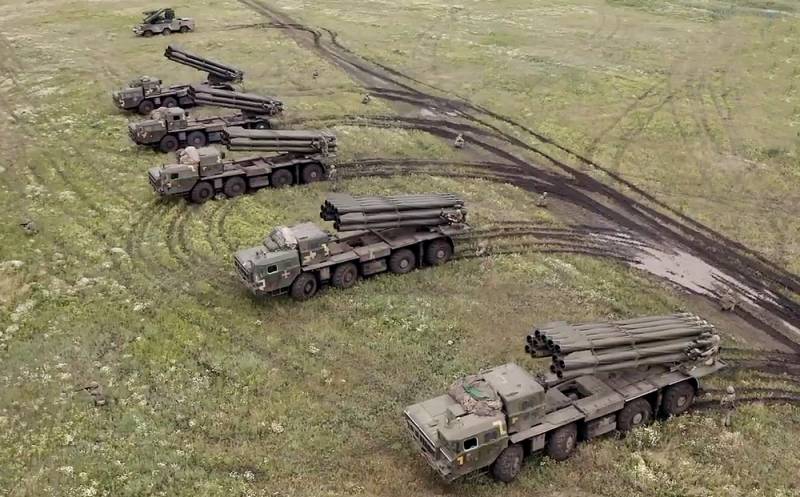 It looks like the West intends to use the last argument against the launch of Nord Stream 2. According to the American publication Bloomberg, Russia's direct participation in the conflict in Donbass will, in fact, bury the energy project.
In the past few weeks, the Russian army has significantly increased its military forces in the areas bordering Ukraine. So, recently near Voronezh
arrived
battalion of tanks T-80U, and the area of ​​deployment of units
cover up
anti-aircraft missile systems S-400. However, sources in Washington
warned
on the likelihood of an early resumption of hostilities in Donbass,
showing
the dynamics of the increase in the number of Russian armored vehicles near the Ukrainian border.
Bloomberg is confident that any involvement of the Armed Forces of the Russian Federation on the territory of Ukraine will either lead to a serious shift in the timing of the gas pipeline launch (if there is a local operation), or even to a complete and final disruption of the project (if Moscow decides on a full-scale invasion).
In any of these scenarios, Washington will have a convincing argument in its dispute with Germany over Nord Stream 2. The "aggression" of Russia will be too obvious for Berlin to continue to insist on its own.
Therefore, Putin's priority now is selling gas, not waging war.
- believe in Bloomberg.
Nevertheless, an attempt to provoke a conflict in the east of Ukraine can be made. As the Ukrainian insider recently reported, Zelensky
gave the order
prepare for the "hot phase" of the war in Donbass.
Involvement of Russia in the conflict will also solve another problem of Kiev - the unwillingness of Westerners to fully arm the Ukrainian army and discuss the country's entry into NATO. Experts admit that in the event of a resumption of hostilities in the region, air forces of the NATO member states (similar to the Baltic states) may appear in Ukraine, long-range missile defense systems will be deployed, and reconnaissance flights of US aviation will no longer be carried out from bases in Italy or Greece, and from the territory of Ukraine itself.
The appearance of Russian troops in Donbass will once again raise the information wave about the "red threat", opening the way for a significant build-up of the Alliance forces on the Russian borders. Already, it is reported that the United States plans to update its nuclear arsenal in Europe. The development of the new tactical nuclear bombs B61-12 (with adjustable power of 0,3, 1,5, 10 or 50 kilotons) has been completed, and soon they will appear on the territory of countries such as Germany, Belgium, the Netherlands, Italy and Turkey.